Sex, money and #metoo – a Canadian political saga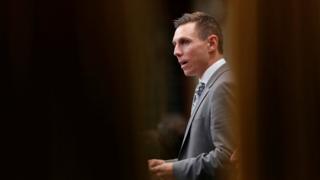 The shenanigans surrounding the resignation of a rising political star has left Canada bewildered – and kind of gripped.
A month ago, Patrick Brown resigned in the middle of the night as leader of Ontario's official opposition party, after becoming embroiled in sexual misconduct allegations fuelled by the #metoo movement.
Weeks later, he threw his hat into the ring for the very same job, stunning the country.
Everyone wondered what Brown would do next. Then he decided to quit.
Whoever said Canadian politics was boring?
The country has been swept up in a political rollercoaster ride as Mr Brown tried desperately to cling to power amid a flurry of allegations of both sexual and financial misconduct.
But on Monday, the ride ended with a lurch when he abruptly announced that he would drop out of the Ontario Progressive Conservative leadership race for good.
The move came somewhat as a surprise, considering his dogged resolve to stay in the game, political fallout to his own party be damned. His candidacy turned what should have been a serious race to appoint his successor ahead of the June provincial election into a political sideshow.
He said his decision to quit was motivated by his desire to focus on clearing his name, spare his family and friends the media scrutiny, and support the party.
"It has become increasingly evident that my participation in this democratic race has become, for some, a source of distraction."
The rollercoaster begins
It all started on 24 January when CTV News published the shocking accounts of two women who accused Brown of sexual misconduct when he was a federal MP.
CTV's original story included the accounts of two anonymous women who both said that Brown plied them with drinks and pressured them or tried to pressure them into sexual activity when he was a sitting Federal MP.
The first incident allegedly occurred a decade ago when Brown – who has never married – was in his late 20s and he met the woman at a local bar when she was in her late-teens.
The second incident allegedly occurred in 2012 and involved a 19-year-old woman who worked at his constituency office.
Just before the story was set to air, Brown gave a tearful press conference where he insisted the allegations were "categorically untrue" and stated his intent to stay on as party leader. Soon after, a number of his top aides quit en masse, saying that they had begged him to resign but he had refused.
Hours later, before dawn, Brown took his first bow.
Still vigorously denying both allegations, he caved to party pressure and announced that he would resign.
Clearing his name
In the age of #metoo, a kind of script has emerged for public figures accused of sexual misconduct. They deny the allegations while simultaneously apologising for any "misconstrued" behaviour. Then they disappear.
Not Patrick Brown.
Instead of shrinking into the woodwork, Brown loudly began trying to clear his name. On Facebook and to anyone who would listen, he called CTV's reporting "malicious and false" and poked holes in their story.
CTV originally reported that the first alleged victim was 17, in high school and under the legal drinking age at the time of the incident. But Brown vehemently denied this, and accused CTV of ignoring evidence from sources who contradicted her story.
On 13 February, the broadcaster amended its original story and now says she was not under-age at the time of the alleged incident.
CTV says it "stands by its reporting", and quoted the woman's lawyer who said it's not unusual for "collateral details" to fade over time.
Brown took this error as an opportunity to not only vindicate himself but perhaps get his old job back.
Days after CTV changed their story, he began legal proceedings against the broadcaster and announced that he would enter the very leadership race that had been triggered by his resignation.
Knives come out
The PCs had a problem on their hands.
As long as Brown was in the limelight, the conversation would always be on what he did or did not do. A skilled campaigner and fundraiser who still enjoyed strong support in his constituency, there was even a possibility that he could win the leadership contest, only to fall in the general election.
Skip Twitter post by @adam54johnston
You will always be "our Premier" @brownbarrie! Any future endeavours that you may go on (after this fight) I would be honoured to be a part of. Good lock and fight on! #BestMPPEver

— Adam Johnston (@adam54johnston) February 26, 2018
End of Twitter post by @adam54johnston
The party decided to kick him out of caucus, but allowed him to run.
Meanwhile, documents began to be leaked to the press that suggested that Brown might be guilty of financial misconduct.
Fellow Ontario PC Randy Hillier accused him of "dirty and crooked" politics and called for an investigation into his financial dealings, including how he paid for a C$2.3m ($1.8m, £1.3) waterfront property on a C$180,000 salary.
Brown calls the allegations of financial impropriety "fictional" and "defamatory".
The end to the saga
On Monday, Ontario's integrity commissioner announced he would investigate Brown's financial disclosures.
And sources close to Brown said he would resign.
After blowing hot and cold, on and off, for weeks, no one quite knew what to believe.
When he finally did make the official announcement, there was a collective sigh of relief.
"Let's be honest, the air has been sucked out of this campaign because of all of the stories that have been swirling around Patrick Brown," said provincial politician Todd Smith, who is supporting one of Brown's rivals in the leadership race.
"It's difficult for anyone to get any kind of traction because of the circus type of atmosphere."