Seville orange heist: Stolen fruit spills from cars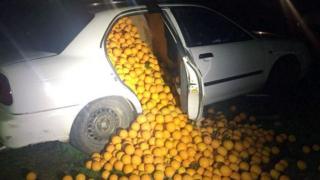 Police in Spain have recovered four tonnes of stolen oranges after pulling over two cars packed with the fruit.
The oranges were found when police in Seville became suspicious and searched the vehicles following a short chase.
Five people were arrested when they could not explain where the oranges had come from. One suspect said they had picked them up from the ground.
It was later discovered that the fruit had been stolen from a warehouse in the nearby town of Carmona.
After pulling over the two cars, police searched the surrounding area and found a van that was also loaded with oranges.
The suspects told police they had been collecting them as they travelled from a long way away, according to Europa Press.
They added that they were carrying them for their own consumption.
But police said the suspects did not have the required paperwork to be transporting such a large quantity of fruit.
You may also like