Severn Trent boss is businesswoman of the year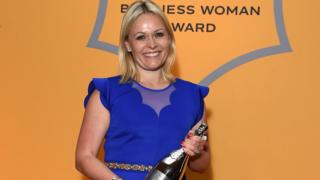 The boss of a water company and the founder of a luxury sex toy company have won top awards for businesswomen.
Liv Garfield, the chief executive of Severn Trent, was crowned Business Woman of the Year at the Veuve Clicquot awards ceremony.
Her company's share price has risen 15% since Ms Garfield took the helm in 2014 and judges hailed her business acumen.
Stephanie Alys, the creator of MysteryVibe, won the New Generation award for "breaking down barriers".
The Veuve Clicquot Business Woman awards were created in 1972 as a tribute to Madame Clicquot, who single-handedly took over her husband's champagne business after he died.
Previous winners of the UK ceremony include Anya Hindmarch and Alison Brittain, chief executive of Whitbread.
Ms Garfield, 42, who is a working mother with two young sons, worked at BT and Accenture before joining Severn Trent.
She said: "My ideal is to see the boys in the morning before I go to work, or in the evening, but either way we share lots of video messages during the day."
She added that she tried to create "an awesome place to work" so others enjoyed their jobs, adding: "You have to love your job to get on with it."
Judges praised Ms Garfield's decision to introduce menopause awareness training at Severn Trent.
She told the BBC's Today programme: "The menopause is a hugely important topic if we're going to have more women in the workplace. It's something that 97% of women will go through and yet it's a taboo subject.
"We believe at Severn Trent that great companies are based on the right culture, and that means topics like menopause being discussed and making sure that you train your whole workforce in all that will mean for women in the workplace."
'Social taboos'
Ms Alys, 28, whose company, MysteryVibe, sells its vibrator, called Crescendo, in 58 countries, was praised by the judges for her aim "to close the pleasure gap by bringing equality to sex".
"She is leading the revolution in sex-tech," the judges said. "Demonstrating the same characteristics of Madame Clicquot over 200 years ago, Stephanie is breaking down barriers and social taboos."
Ms Alys said: "People find it very difficult to start a conversation about sex but it gets easier once it starts.
"Creating any business is really hard but creating one in this industry is even harder."
Also receiving a gong at the awards ceremony was Amanda Nevill, the chief executive of the British Film Institute, who received the Social Purpose Award.
Judges chose Ms Nevill, 61, because of her focus on future talent and action to tackle harassment and bullying in the film industry.
She said: "When I started out in the 1980s we thought we had cracked this, but we so haven't. There a whole new momentum now so the situation is very different."