Several wounded by Army shots at protesters in northern Lebanon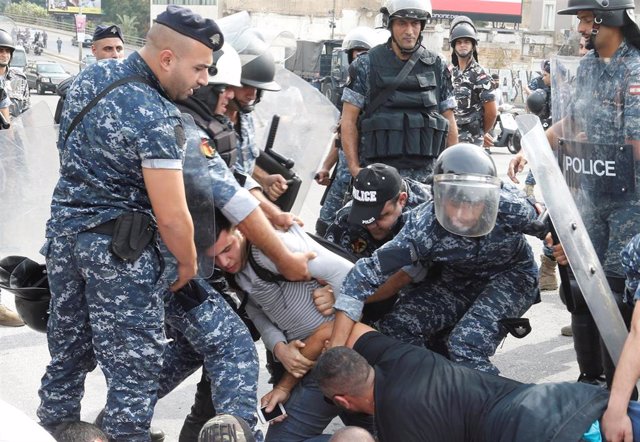 Police during a demonstration in Beirut – REUTERS / MOHAMED AZAKIR
MADRID, Oct. 26 (EUROPE PRESS) –
Several people have been injured this Sunday in Al Biddawi, a neighborhood in the Lebanese town of Bedawi, near Tripoli, in the north of the country, due to the shooting of the military deployed to try to reopen a road cut by protesters.
Apparently the military fired several shots in the air to disperse the protest. The videos of the incident spread on social networks do not clarify the origin of the shots and show people fleeing scared, some of them with bloody clothes, reports the Lebanese newspaper 'An Nahar' in its digital edition.
At least one ambulance has transferred an injured person to a hospital and the Lebanese state news agency, NNA, has reported that at least one of the injured is in critical condition. The Lebanese Red Cross has reported three confirmed injuries via Twitter.
In addition, several arrests have been reported, including that of Amer Arish, one of the most prominent faces of the latest wave of protests that has shaken the country.
Protesters say the military opened fire on them after trying to disperse them with tear gas. Before the shooting the Army had urged the residents of the area to "remain inside their homes until the tensions subside."
The massive demonstrations started ten days ago demand the immediate dissolution of the current Lebanese Government, whose decision in mid-month to tax the instant messaging application WhatsApp ended up depleting the patience of a population unable to reach the end of the month and frightened by the inability of the authorities to stop the fires that have ravaged the country this month and dynamited the fragile agricultural economy.