Seventeen hurt as Dartford Arriva bus ploughs into cars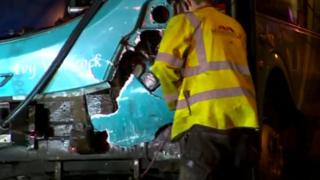 A bus ploughed into dozens of cars stuck in traffic in a busy town centre, leaving a trail of devastation.
Seventeen people suffered minor injuries in the crash which saw 25 vehicles damaged in Hythe Street, Dartford at about 19:00 BST on Tuesday.
A man has been arrested on suspicion of careless driving and is in custody.
The road has since reopened after emergency services worked through the night to clear the bus and damaged cars.
Halal Uddin, who owns the nearby Indian takeaway Raja, said: "I was shocked, I thought somebody was shooting.
"I went inside my door. Then I thought, 'it's coming', so I looked outside and saw this bus [hitting] the cars, and heard people screaming."
Police, fire and ambulance services were called to the aftermath and treated a number of "walking wounded" at the scene.
One person required oxygen and South East Coast Ambulance said one man was taken to hospital. He is not thought to have suffered serious injuries.
Julie Swift arrived at the scene just after the crash.
"I felt distraught and upset for all the people, but the police, fire and ambulances were all doing their jobs really well, they were brilliant, they got here quick, and it was amazing just how quickly it was all cleared up," she said.
Tony Brown, 38, from Dartford, was going for a meal when the crash occurred.
"Judging from people on the scene, the bus simply ploughed through a number of cars that were stuck in traffic waiting at the traffic lights in Hythe Street," he said.
"Whether it was brake failure or the throttle jammed, he made it a good way through at least five rows of cars before coming to a stop.
"There were no visibly seriously injured people, but lots of people in shock and damaged cars."
Oliver Monahan, managing director of Arriva Kent and Surrey, said: "Arriva can confirm that a bus has collided with a number of vehicles on Hythe Street in Dartford on Tuesday evening… Our thoughts are very much with all those affected."