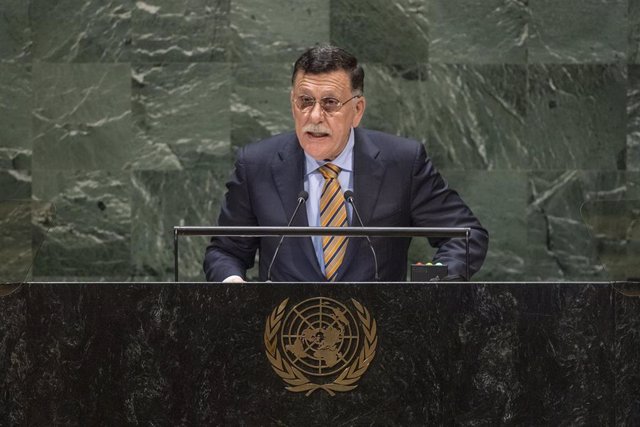 The Prime Minister of the Unity Government of Libya, Fayez Serraj – Cia Pak / UN General Assembly / dpa – Archive
EL CAIRO, Jan. 19 (DPA / EP) –
The first half of the Libyan Government recognized by the international community, Fayez Serraj, has expressed his total skepticism about the will of his declared enemy, Marshal Jalifa Haftar, at the time of ending the conflict in Libya just before the start this Sunday of the peace conference in Berlin to achieve at least a ceasefire in the North African country.
Serraj declares his distrust of Haftar's intentions about signing a ceasefire in Berlin
"The long accumulated experience that we have makes us doubt the intentions, seriousness and commitment of the opposite side, of which everyone knows that they only want power at any price," Serraj explained without mentioning Haftar by name.
The quarterback, executive arm of the parallel government of Libya in the east of the country, has besieged Tripoli since last April, in a conflict that has left more than 2,000 dead and dragged countries like Turkey and Russia.
Precisely Serraj recalled that Haftar refused to sign a ceasefire agreement managed by these two countries "and that he already knew what was on that road map when he arrived in Moscow to negotiate."
The Libyan prime minister reiterated his oath to "defend" Tripoli and "continue defending himself if this aggression, if it continues." "We have not attacked anyone. We are exercising our right to self-defense," he reiterated. "
Also, Serraj has defended the signing of a controversial territorial surveillance and security agreement with Turkey, which he argued as a double pact "that protects the rights of both countries and is, in terms of security, appropriate for the interests of both", in the face of criticism from Greece, which understands the agreement as a violation of international law and limits access to gas fields in southern Crete.