Sergio Ramos: Mohamed Salah 'arm grab' led to shoulder injury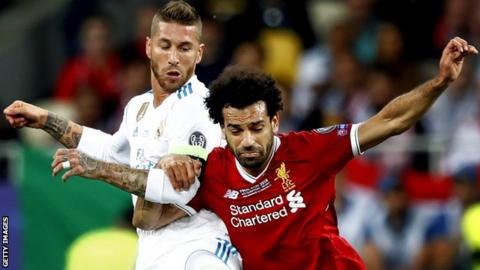 Real Madrid defender Sergio Ramos says an initial "arm grab" by Mohamed Salah led to the Liverpool forward's injury in the Champions League final.
Salah, 25, left the field in tears with a shoulder injury and has since had surgery on the problem.
Spaniard Ramos also collided with Reds goalkeeper Loris Karius, who suffered concussion in the 3-1 defeat in Kiev.
"I am only missing Roberto Firmino saying he got a cold because a drop of my sweat landed on him," said Ramos.
Ramos also claimed Salah could have played on in the match "if he got an injection for the second half".
Salah landed heavily on his shoulder midway through the first half against Real. Despite the injury he has been selected for Egypt's upcoming World Cup campaign in Russia.
Many Liverpool supporters blamed Ramos for the clash, which went unpunished by the referee, saying he inflicted a judo-style move on his opponent and a petition was raised calling for Fifa and Uefa to punish the Spain international.
An Egyptian lawyer also filed a lawsuit worth £874m against Ramos for the "physical and psychological harm" caused to the people of Egypt.
Two major errors by Karius helped Real to victory and doctors who assessed the German in the USA say it was "possible" the injury "would affect performance".
Ramos, 32, told AS: "Bloody hell, they have given this Salah thing a lot of attention. I didn't want to speak because everything is magnified.
"I see the play well, he grabs my arm first and I fell to the other side, the injury happened to the other arm and they said that I gave him a judo hold. After that the goalkeeper said I dazed him with a clash.
"I spoke with Salah through messages, he was quite good. He could have played if he got an injection for the second half, I have done it sometimes but when Ramos does something like this, it sticks a little bit more.
"I don't know if it is because you are at Madrid for so long and win for so long that people look at it a different way."