Second teenage girl raped and set alight in India
The attack follows another against a 16-year-old who was killed in a similar manner in the same area.
A man has been arrested in connection with the second attack, on a 17-year-old who was doused in kerosene and set alight.
It is the latest in a series of brutally violent sexual assaults which have caused outcry across the country.
The latest victim was attacked on Friday, the same day that the 16-year-old was abducted from her home and murdered in retaliation for speaking out about her rape.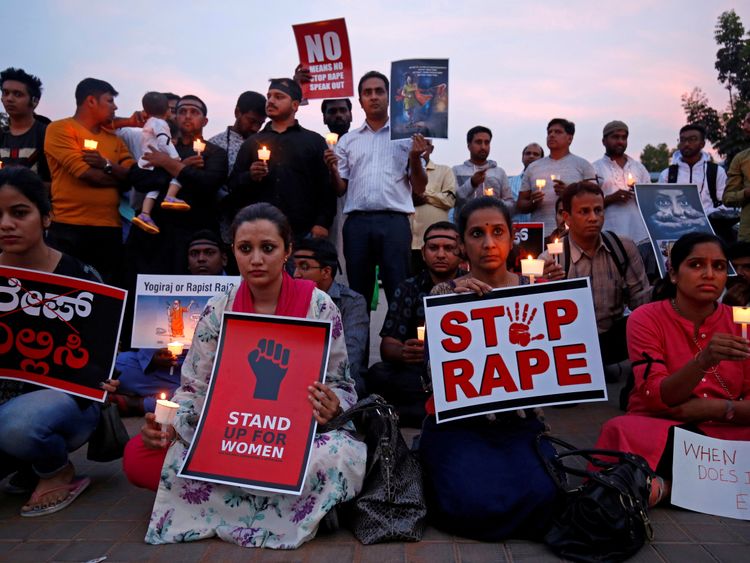 "The [17-year-old] girl has suffered 70% first-degree burns. There is a chance that she will survive," Shailendra Barnwal, police superintendent of Pakur district, told the AFP news agency.
Mr Barnwal said the victim had been moved to specialist facilities in a private hospital for "proper treatment and recovery".
He said police have arrested a 19-year-old in connection with the attack.
The man, who was photographed with his face covered and not named, lives in the same neighbourhood as the victim, police said.
There has been intense attention on attitudes towards rape in India following the gang-rape and murder of a student on a New Delhi bus in 2012.
Protests have been held across the country since horrific details emerged last month about an eight-year-old girl being gang-raped and murdered in the state of Jammu and Kashmir.
Eight Hindus have been accused over the Muslim girl's abduction, repeated rape and murder, although local Hindu activists have staged protests and accused the police inquiry of bias.
Some 40,000 rape cases were reported in India in 2016, with many more believed to have gone unreported because of stigma attached to sex crimes in the country.
The Indian government has passed a series of laws increasing punishment for rape of an adult to 20 years in prison and introducing the death penalty for anyone found guilty of raping girls aged under 12.