Second Durham rugby player dies in Sri Lanka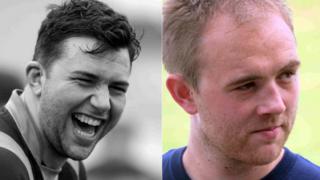 A second British amateur rugby player has died after complaining of breathing difficulties on returning from a nightclub in Sri Lanka.
Thomas Howard, 25, and Thomas Baty, 26, had been touring the country with Durham-based Clems Pirates RFC when they visited the club in Colombo.
Mr Howard, from Durham, died after being admitted to hospital on Sunday.
Mr Baty, also from Durham, who had been critically ill in the same hospital, has also now died.
Durham City Rugby Football Club, which oversees the team, confirmed Mr Howard died after "suffering breathing problems".
A club statement said: "It is with great sadness that the Club can now confirm that Tom Baty has died following his admission to hospital on Sunday.
"We would like to extend our sincere condolences to the Baty family."
Mr Howard's post-mortem examination did not show any injury or illness and samples have been sent for further analysis, police said.
Family members of both players are in Sri Lanka and are being assisted by UK consular staff.
The team arrived in Sri Lanka on 9 May and began the tour with a game against Ceylonese Rugby and Football Club (CR & FC) in Colombo.
According to police in Sri Lanka, some British players went to Colombo's Cleopatra nightclub after the match and returned to their hotel in the early hours of Sunday.
The two players complained of breathing difficulties to the hotel management at about 10:00 on Sunday and were taken to Nawaloka Hospital.
Police are examining CCTV from the nightclub in an effort to establish the players' movements.
Tributes to the pair from other rugby clubs across the UK have been made on social media.
Skip Twitter post by @SunderlandRFC
We would like to extend our deepest sympathy and condolences to the families and friends of the @DurhamCityRFC and Clems Pirates players Thomas Howard and Tom Baty. Our thoughts are with at this tragic time.

— Sunderland RFC (@SunderlandRFC) May 15, 2018
End of Twitter post by @SunderlandRFC
The BBC's reporter in Colombo, Azzam Ameen, said: "The Judicial Medical Officer has ruled out any internal or external bleeding injuries, so they have not been able to find out the exact cause of the deaths.
"The case has now been referred to the government analyst for further inquiries.
"The police here are taking the deaths of two UK visitors to Sri Lanka seriously, but they have said it may be a few more days before they can establish exactly what happened."
A spokesman for Durham Police added: "Investigations into the deaths of Thomas Baty and Thomas Howard are being carried out by the authorities in Sri Lanka.
"While those investigations continue, the families are being supported by officers from Durham Constabulary.
"Both families have asked that the media respect their privacy at this difficult time".