Searching for the sublime: The man who paints in the ocean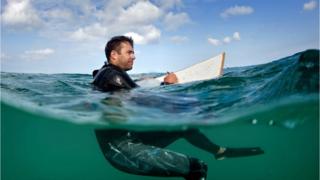 From Hokusai's The Great Wave to Turner's Storm at Sea, many a painter has produced a seascape. Less common though, is the method Peter Matthews uses – he effectively lets the ocean do the work for him.
Along with conventional materials such as paint, pencil and charcoal, he also lists "earth", "water from the Atlantic" and "rust".
Matthews, whose works is listed for thousands of pounds with the Saatchi gallery, says his moment of inspiration was a near-death experience he had while surfing alone in Mexico in 2007.
The waters turned wild, he lost the tethering line to his surfboard, and he was "floundering in the ocean with a gut-wrenching sense of fear, being completely at the mercy of the ocean".
Although he managed to get safely back to the beach, he describes his "epiphany moment" of realising he could create his pieces "while physically in or with the sea".
He exchanged surfboard for drawing board and, from the Cornish coast to the Hawaiian swell, started immersing himself in the ocean for hours – sometimes days – at a time. He keeps the tools of the trade – some charcoal pencils and gel pens – in his hat, and drifts about with a piece of paper pinned to a wooden board, scribbling on it as he bobs in the waves.
You might also like:
A Christmas of solitude and silence
The man who's been hands-on with priceless art for 40 years
Heathrow's death sentence for villages
He will often enter the water at first light and crawl out in the evening, spending the night in a tent on the beach. And while he sleeps, the water continues to work for him – he leaves his drawing in a rock pool, so it will remain soaked in seawater and change overnight.
He recently spent weeks sewing pieces of canvas together while sitting alone on a rock in Cornwall. The paintings he joined were created in two oceans, the Atlantic and Pacific. He says each painting is made up of "two different parts of the world, ocean experiences and experiences of being out in nature, moving nomadically from place to place, in search of the sublime".
Matthews, who was born in Derby, spent days wandering around fields, along river banks and exploring the woods of Derbyshire. He was usually alone on his childhood ramblings and is still attracted to solitude, something he calls the "mysterious and omnipresent call of the wild".
That's all very poetic, but what does his work actually look like? It's difficult to pin down.
Some are almost cartographic, like a stained and blurred map of nowhere. Others bear a series of scrawled words, perhaps the ramblings of the Roman sea god, Neptune. Waterlogged, fragile and scratched, strangely compelling, they are the result of countless hours of watching and drifting, translating or transcribing a watery monologue.
There are practical issues to deal with when it comes to this peculiar working regime. Occasionally, especially during storms, paintings or drawings have been lost to the ocean.
There is a place in Cornwall where Matthews buried some paintings, only for a landslide of mud to cover them. He never did find them.
These losses, though, are not the disasters they might seem. For Matthews, "the work still exists, it is still in motion, in process".
"I feel a deeply emotional contact with the universe when I see a drawing on paper slowly drift downwards to the bottom of the ocean, such as when a rogue wave breaks… and it takes the paper off the battered plywood board and I am just a witness to the forces of nature."
More prosaically, prolonged exposure to the elements has led to hypothermia. Sunstroke, jellyfish stings, razor-sharp rocks and coral all have their challenges.
He has to deal with "the epic unpredictability of the weather," high tides and rogue waves. He has suffered snake, insect and wild dog bites.
Even finding shelter, food and fresh water can be difficult in some hard-to-reach places as he treks out alone, carrying all his equipment.
Despite working all over the world, there is a particular, secret, place in Cornwall to which Matthews feels the most deeply connected, returning there to work for about a decade.
"It has become a place where I can really feel my ancestral roots," he says.
From time to time, people out walking the south-west coast path will stop and watch as he works. "They're no doubt thinking 'what I am doing?' as I bob up and down in an old wetsuit clutching onto a piece of plywood with a piece of paper nailed to it."
Bemused onlookers do not seem to matter to Matthews. As he says, he is all about "finding a position in time, space and life".
"It is that path and communion, that personal dialogue along that path to seek and to find that I am entranced by.
"Perhaps that sounds religious in some ways, and in a lot of ways, it is."