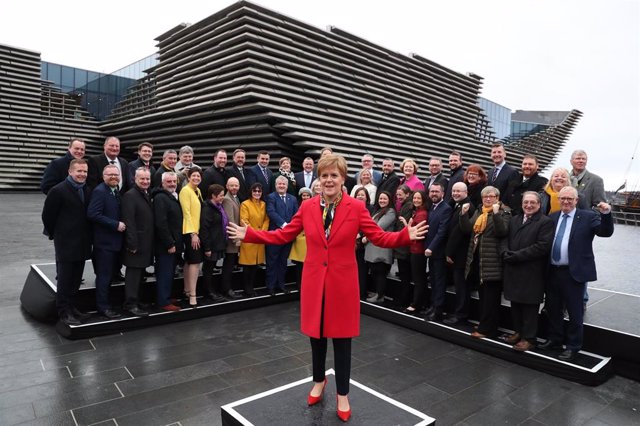 Sturgeon with the SNP deputies elected in the December 12 elections – Andrew Milligan / PA Wire / dpa
Sturgeon vindicates his "democratic mandate" to convene the consultation and that the United Kingdom has a "democratic duty" to authorize it
Scotland's chief minister, Nicola Sturgeon, has confirmed that she has requested by letter to the UK Prime Minister Boris Johnson to give the regional Parliament the power to call a new independence referendum, the newspaper 'The Scotsman' reported .
In her letter, the leader of the Scottish National Party (SNP) transferred to the British 'premier' that "democracy must prevail and prevail", after officially requesting that he transfer the powers to the Scottish authorities to convene a new secession consultation.
Sturgeon's request comes after his party, the SNP, managed to win 47 of the 59 seats for Scotland in the British general elections held last week, in which the leader of the Conservative Party, Boris Johnson, won the victory with the absolute majority of the representatives in the House of Commons.
Sturgeon argues in his letter to Jonhnson that after the victory of his party in the general elections in Scotland it is "indisputable" that it is necessary to call a second independence referendum in Scotland.
The SNP has released several documents that are draft legislative changes so that British law officially recognizes Scotland's right of self-determination and that a new secession referendum can be held ensuring that the population is fully aware of the consequences of separating from the rest of United Kingdom.
A "ORGANIZED AND RESPECTED" SECTION REFERENDUM BY THE UNITED KINGDOM
The SNP has explained that the objective of this package of proposals for legal reforms is to ensure that the consultation can be held – the second on independence after the one held in 2014, in which the 'no' was imposed on secession – and that the referendum be "organized" and "respected" by the British Government.
In a statement from his official residence in Edinburgh, Sturgeon has stressed the right of the Scots to decide their future and has warned that "the alternative" is "a future" that the Scots "have rejected", referring to the departure of the European Union, and that "they want to impose".
Sturgeon has also referred to the possibility that Johnson refuses to allow a new consultation and has left that in that case she will study "all reasonable options to guarantee Scotland's right of self-determination."
"Scotland made it clear last week that it does not want a Tory government led by Boris Johnson to take us out of the European Union," he said. "That is the future we face if we do not have the opportunity to consider the alternative of independence," he added.
The principal minister of Scotland has emphasized that it is "a fundamental democratic principle" that decisions "on the constitutional future of Scotland" must be taken "by the people living" in that region.
"As this document points out, the Scottish Government has a clear democratic mandate to give the people an option in that future with an independence referendum and the British Government has a democratic duty to recognize it," he argued. "The elections last week have only reinforced that mandate," he concluded.