Schools told not to dismiss sexual harassment 'as banter'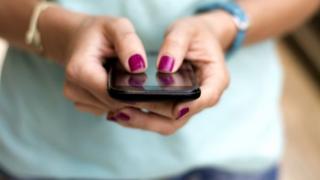 Sexual harassment or violence at school should never be dismissed as "banter", new Department for Education guidance to schools and colleges has stressed.
"Sexting" explicit images and videos of under-18s is illegal, it says, and girls are the most likely victims.
Schools still have a duty to act if incidents outside school are reported.
The Women and Equalities Committee described the issuing of the guidance as a "belated, but critical, step in the right direction".
It adds that more still needs to be done to make sure girls – who are the most likely victims of sexual violence in schools according to the guidance – are "safe and equal" at school.
The guidance, published on the government's website on Thursday, highlights "best practice" but says it is for individual schools and colleges to develop their own policies and procedures. It has also launched a consultation on changes to statutory guidance – which sets out the legal duty on schools and colleges.
The new advice stresses that educational establishments should be making clear that sexual attacks and harassment "will never be tolerated and is not an inevitable part of growing up", warning that if it is allowed, then it can "provide an environment that may lead to sexual violence".
Behaviour such as "grabbing bottoms, breasts and genitalia" is potentially criminal and must not be permitted, it says.
The advice says those accused of sexual attacks or misbehaviour also need support and may be victims of abuse and trauma themselves.
Teachers should consider the ages of the pupils involved in deciding whether behaviour is harmful – particularly if there is more than two years between them, if one child is disabled or physically much smaller.
In any case of reported rape, the child accused should be removed from any classes they share with the alleged victim, "in the best interests of both children". Schools or colleges should do "everything they reasonably can to protect the victim from bullying and harassment as a result of any report they have made".
"Schools and colleges should also consider the potential impact of social media in facilitating the spreading of rumours and exposing victims' identities," the guidance says.
The government says a "whole school approach" should be taken which might include teaching pupils about healthy and respectful relationships, gender stereotyping, self-esteem and prejudice.
Social workers should be alerted if a child has been harmed and rape or assault allegations should be referred to the police. Parents should usually be informed, unless it is considered that this would put pupils at greater risk.
BBC Panorama discovered that reports of sexual offences on school premises in England and Wales increased from 386 in 2013-14 to 922 in 2016-17, according to 31 police forces – including 225 rapes on school grounds over the four years.
In its report last year, the Women and Equalities Committee warned that harassment of girls in English schools was being "accepted as part of daily life" and must be acted upon.
'Safe places'
Its chairman, Maria Miller, said it was important that the new advice was being well promoted: "It is well over a year since the committee called for the government and schools to make girls' safety an immediate priority and this is a belated, but critical, step in the right direction.
"The advice addresses in detail important issues that we highlighted in our report, including the need to get support from specialist services and recognising the forms that sexual harassment in schools can take."
But she said more long-term work was needed "so that future generations of girls are safe and equal at school".
For the government, Minister for Children Robert Goodwill said schools and colleges "should be safe places".
"All schools must have an effective child protection policy that addresses a range of issues. To support schools we have published new advice specifically on sexual violence and sexual harassment.
"We are consulting proposed changes to the Keeping Children Safe in Education guidance, to ensure it reflects the challenges that schools must be prepared to deal with."