Santiago de Chile dawns taken by more than 400 soldiers to impose the state of emergency for protests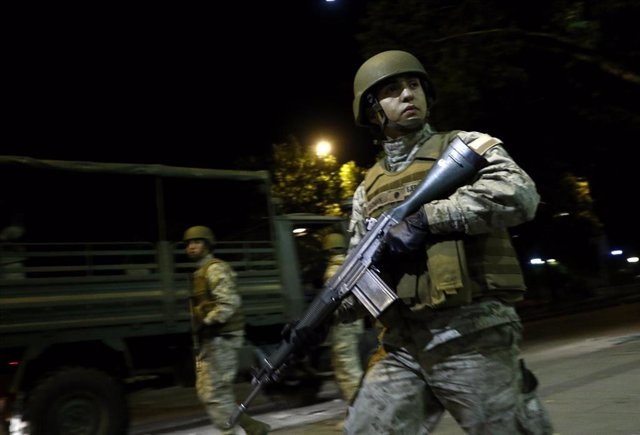 Military begin to patrol Santiago – MARIO DAVILA / AGENCIAUNO / MARIO DAVILA / AGENCIAUNO
MADRID, Oct. 19 (EUROPE PRESS) –
The Chilean capital, Santiago, has dawned this Saturday taken by some 400 soldiers who control the access to the city and the nerve points of the city within the framework of the state of emergency declared by President Sebastián Piñera in response to protests against the rise In the price of the subway.
"More than 400 men and women of our force protect the people of Santiago in the #EstadoEmergencia giving peace and security through 16 axes of the capital. # Army in Action # EstadoDeExcepcion", the Chilean Army has informed through its Twitter account.
The general in charge of the state of emergency, Javier Iturriaga, has flown this morning over the capital to monitor the situation and the images of the flyby have been disseminated by the Army's account.
Despite the deployment, there have been numerous "cacerolazos" in different districts of Santiago and there have also been clashes between protesters and police in places like Plaza Italia.
Since the opposition, the president of the Party for Democracy (PPD), Heraldo Muñoz, has condemned the riots and has called for the resignation of the responsible State secretaries. "There are ministers who have to put their resignation to the order because it cannot be that there are no political responsibilities for these damages," said Muñoz, who has supported the reasons for the protests.
For the president of the Socialist Party, Álvaro Elizalde, the Government is "caricaturing" the citizen unrest and "that generated a climate of effervescence." Thus, he has denounced that a State of Exception has been "decreed for the first time in democracy as a result of social protest and widespread malaise" and has reproached the Government for its lack of social sensitivity.
In addition, opposition voices have criticized President Piñera last night having dinner at a restaurant. In response, Government spokeswoman Cecilia Pérez has argued that these are "human" things.
"President Sebastián Piñera was working from an early age, worried and busy about this. And notice that he left an hour to return immediately, be up until dawn working, to greet one of his grandchildren who was on a birthday," Pérez argued . "Today, Chile needs serious politicians," he said.
This Saturday has published the balance of the day of protests on Friday: 308 arrested and 160 wounded, mostly police, according to the Chilean government. Protests began in the Chilean capital after the government decided to raise the price of the subway ticket.