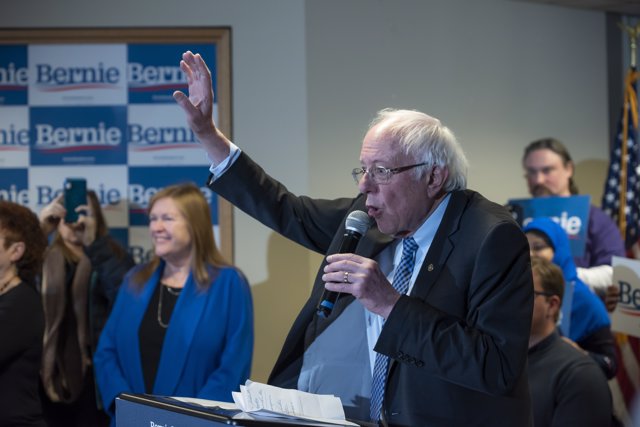 February 8, 2020 – Concord, New Hampshire, United States: Dr. Jane Sanders, wife of Democratic Presidential candidate Senator Bernie Sanders at a campaign rally in Concord, NH. (Rick Friedman / Contact) – Rick Friedman
MADRID, 12 Feb. –
The White House pre-candidate and Vermont state senator Bernie Sanders is emerging as the winner of the Democratic primary in New Hampshire, held on Tuesday, with a narrow margin in front of former South Bend mayor Pete Buttigieg.
Sanders is emerging as a winner of the primary in New Hampshire with a narrow margin against Buttigieg
Specifically, and with 94 percent scrutinized, Sanders has obtained 26 percent of the support in the New Hampshire caucuses. Meanwhile, Buttigieg, who won the Iowa primaries by only 1,500 votes, has so far achieved 24.4 percent of the vote.
"With the victories behind us, the popular vote in Iowa and tonight's victory here, we are going to Nevada, we are going to South Caronlina, we are going to win those states," Sanders said in New Hampshire.
The Vermont senator won the popular vote in Iowa, but has a smaller number of delegates than Buttigieg, 12 versus 14. It is the delegates who determine the victory in the Iowa caucus, not the popular vote.
Sanders has also taken advantage of his intervention to thank his opponents and express their appreciation. "I want to take my opportunity to express my appreciation and respect for all the candidates we face," he said. "It doesn't matter who wins, we will join and defeat the most dangerous president in modern history," he said.
For its part, in third position is the senator for Minnesota Amy Klobuchar, who has managed to take 19.7 percent of the vote. After her, Massachusetts Senator Elizabeth Warren has taken 19.7 percent of the support, according to the CNN television network.
In fifth place is former US Vice President Joe Biden, who started as a favorite in the race for the Democratic nomination, and has obtained 8.4 percent of the votes in New Hampshire.
A survey by the University of Monmouth on Tuesday granted Sanders 26 percent of the nationwide support to win the Democratic Party's candidacy for the White House against 16 percent of former US president Joe Biden and 13 percent of Buttigieg
The following appointments of primaries to define the candidate of the Democratic Party to the American elections scheduled for November, in which the current US president, Donald Trump, will opt for re-election as a candidate of the Republican Party, will take place in Nevada and South Carolina on February 22 and 29, respectively.
However, the experience of previous primary processes indicates that the candidate who remains in one of the first two positions in Iowa is the one who ends up achieving the Democratic presidential nomination.
Barack Obama prevailed in the Iowa caucuses in 2008, when he ended up becoming the Democratic presidential candidate, and Donald Trump was second in the Republican appointment in 2016, finishing the race as presidential candidate of the party.