Sajid Javid pledges to act on overstretched police row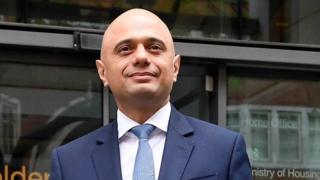 Sajid Javid hopes to draw a line under the Home Office's fractious relationship with the Police Federation in his first speech to the body.
Mr Javid, whose brother is a chief superintendent in West Midlands Police, will pledge to provide the tools and back-up needed for frontline officers.
In the speech taking place in Birmingham, he will say: "I've seen the impact the job has had on family life."
Theresa May was heckled at a previous meeting in 2012 over government cuts.
Mr Javid became home secretary in April, after Amber Rudd resigned her position amid the Windrush revelations.
The federation, which represents rank-and-file officers across England and Wales, has previously shown home secretaries a frosty reception.
As of September there were 121,929 officers across the 43 forces, a fall of nearly 20,000 people compared to 10 years ago.
Police cuts have come under scrutiny after figures have shown an increase in knife and gun crime.
In London 52 people were killed in the first 100 days of 2018, which raised serious concerns about a rise in violent crime.
Mr Javid hopes to repair that relationship in his inaugural speech to the body.
He will say: "I'm not arrogant enough to turn up here after three weeks in the job and tell you how to do yours.
"What I will say is that I am listening and I get it. I get that there's increased demand."
Referring to his brother, he will add: "He's been hurt more times than I want to know from being assaulted on duty.
"I've seen the impact the job has on family life. And, as you would expect from a brother, he doesn't shield me from the truth."
Hopes of a reset on government's relationship with police
By Danny Shaw, Home affairs correspondent
In 2015 the then home secretary Theresa May told officers to stop "crying wolf" about the impact of budget cuts.
Three years on, with crimes recorded by police on the increase, Sajid Javid is expected to strike a markedly different tone.
Addressing frontline officers, he'll say "be in no doubt I will be standing with you".
It's thought Mr Javid will acknowledge how stretched and overburdened police are.
But Federation members will need more than warm words to be convinced that the Home Secretary is committed to improving their working conditions.
Police Federation chairman Calum Macleod will call on the government's support and ask them to "agree that [emergency workers] are not society's punch bags for those fuelled by drink and drugs, or trying to evade arrest".