Sainsbury's and Asda merger 'must be investigated'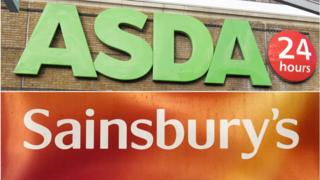 The competition watchdog is being urged by politicians to examine the possible merger of Sainsbury's and Asda.
Talks between the two UK supermarket chains are at an "advanced" stage, with more details of a potential £10bn deal expected on Monday.
Liberal Democrat leader Sir Vince Cable, a former business secretary, said the Competition and Markets Authority (CMA) "must investigate".
Shadow business secretary Rebecca Long-Bailey echoed Sir Vince's concerns.
The combined group would comprise 2,800 stores and would represent 31.4% of the UK grocery market – slightly more than that of market leader Tesco.
The two brands are expected to be retained, should a merger go ahead.
'Customer focus'
Sir Vince said the CMA should force the companies to sell off stores if the merger meant the new giant was dominant in a particular area. He said the move risked creating "even more concentrated local monopolies".
He later told the BBC: "The competition inquiry has to focus on the customers, that is their job."
And Ms Long-Bailey warned that the merger risked "squeezing what little competition there is in the groceries market even further".
Any investigation by the CMA could only be announced once an intention to merge has been formally unveiled.
Amazon fears
Latest figures show that Tesco has a 25% grocery market share, while Sainsbury's has 13.8% and Asda has 12.9%. Together, they would move just ahead of Tesco, with 26.7% of the grocery market.
The merger would have to be backed by the CMA, as the two chains are the UK's second and third biggest grocery chains.
Catherine Shuttleworth, shopping and retail expert at agency Savvy, told BBC Radio 5live: "The two brands are very different. Sainsbury's is also much stronger in the south, and Asda much stronger in the north."
But she said there were similarities, including both having "quite strong clothing businesses".
She added that any merger talks would get off to a good start as Asda chief executive Roger Burnley used to work for Sainsbury's, and Sainsbury's chief executive Mike Coupe is a former employee of Asda.
Mrs Shuttleworth said the proposed merger was being driven by a number of factors, including the possible entry of Amazon into the UK groceries market, and the also the challenge to traditional chains from discounters such as Lidl and Aldi.
"In the UK Amazon have started to dip their toe in the waters with food," she said. "They have got a trading agreement with Morrisons, who are their agent.
"But the fear is that if they really went into the UK market, then they will take share. Part of the merger it to make sure they are protected from that, and also from the growing rise of the discounters."
'Protecting members'
News of the potential deal also caused concern among workers' unions.
Tim Roache, GMB general secretary, said: "Our first priority is to safeguard the job of every single Asda member, both in stores and in distribution. We are demanding an urgent meeting with Asda to get the answers and assurances our members need and deserve."
And Joanne McGuinness, Usdaw national officer, said: "Our priorities will be to protect our members and ensure any deal between the retailers does not impact on their jobs or incomes."
Asda was founded in Yorkshire in 1965. It was bought by US retail giant Walmart in 1999.
The first ever Sainsbury's store opened in 1869 in London's Drury Lane. Qatar's sovereign wealth fund, the Qatar Investment Authority, is now the supermarket's largest shareholder.
Could the big four become the big three?
Analysis: By BBC business correspondent Emma Simpson
All the main supermarket chains have been looking to find new sources of growth because there's not much of it around their own aisles.
Asda had been the poorest performer of the big four. The industry has been wondering what its big strategic move might be. Now we know.
If this merger goes through, it will be the biggest shake up in UK grocery retailing since Morrisons took over Safeway in 2004.