Ryan Higgins: Footballer 'would have had heart attack' had he not retired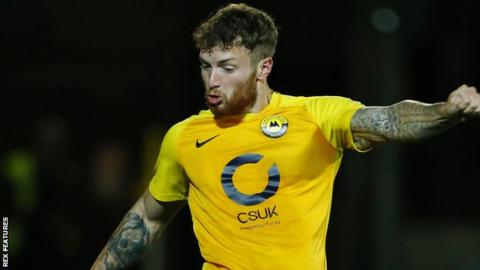 "If I was to continue playing football it's a certainty that I would have had a heart attack."
When doctors tell you something like that, there is no doubt that you have to call time on your football career.
Ryan Higgins, 24, was a full-back at National League side Torquay United when his world crumbled around him in November.
His sister collapsed with a heart attack, needed to be defibrillated 12 times and had emergency surgery in order to survive.
But it was the underlying cause of the episode – in an otherwise fit and healthy young woman – that was to change Higgins' life.
She was diagnosed with arrhythmogenic right ventricular dysplasia (ARVD) and, after four months of tests, so was her brother.
It is an illness that claimed the life of Spain international Antonio Puerta after he collapsed on the pitch while playing for Sevilla in 2008, and was the reason England batsman James Taylor retired from cricket two years ago.
It meant Higgins' career doing the job he loved – playing football for a living – was over despite never suffering a symptom and always passing his medicals with flying colours.
"It would be a Fabrice Muamba situation," Higgins told BBC Radio Devon of what might have happened.
The former England Under-21 midfielder collapsed while playing for Bolton at Tottenham in an FA Cup tie in March 2012.
The game was abandoned and Muamba, whose condition was similar to that of Higgins', was left fighting for his life.
He made a recovery thanks, in part, to the proximity of the London club to a top cardiac hospital, as well as one of their best doctors being in the crowd that day and being able to run on the field and help him – a situation that might not be the case had it happened to Higgins in the National League.
"He was lucky to be brought back and I might not have had that luck," he said. "To catch it the way we caught it is what I need to take as a positive."
Higgins' condition is so rare that it took four months for doctors to diagnose it – its symptoms mimic the heart rate of elite athletes, so it is unlikely any medical would ever have picked it up.
"That's the most painful part of it, going four months not knowing what's wrong," he said. "Not finding out for that length of time is really gruelling.
"Still to this day I've never had any symptoms, I've never had any problems.
"But the doctors are the experts and they've diagnosed me and say I will have a heart attack if I keep playing, and that's not a risk you take in any field no matter what you do."
Grieving for football
Higgins grew up on Merseyside as a football-mad child. He joined Torquay from Southport last summer, having also spent time at Birmingham City, Telford United and Chester.
And he says it is taking time for him to get over the fact that he will not be able to kick a ball in anger again.
"It's like a grieving state, it's like losing somebody you love in your life and you've got to deal with that," he explained.
"Football's all I've known since I was a baby. As soon as I was born I had a ball, I'm the biggest Liverpool fan in the world and I've played football since I could walk.
"I feel like I've lost someone I love, but it just happens to be football."
The next chapter
Higgins now has to decide what he does next.
At 24 he still has time on his side, but he has to juggle supporting his family with finding out what he wants to do and getting the qualifications to do it.
He returned to Torquay for their final game of the season – Higgins' illness capping a disastrous season for the once proud English Football League club which has been relegated to National League South.
"My life now is the transition between football and the next chapter," he said.
"It needs to be instant because I have a mortgage, bills, a family. I have a partner who I've got to work to provide for.
"It's still far too early for me to say 'I want to do this' because I can't find something I love as much as the game.
"But I need to find a job, I need to work while studying alongside something.
"I'd never say I want to leave football behind, as my love for the game is unquestionable, but at this moment in time do I know what the next stage is? Definitely not.
"Do I think I'd be a good coach? Yes, I think I would be.
"My love for the game will never leave, it's just if I can distance myself from playing to still be involved with the game after what's happened.
"At the end of the day the game's been taken from me, I've not chosen to retire, so it's difficult."