Russian spy: Police keen to speak to Salisbury visitors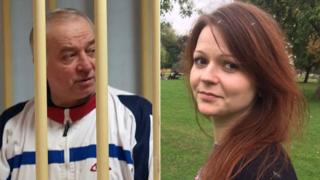 Police investigating the suspected poisoning of a former Russian double agent want to speak to anyone who visited Salisbury on Sunday afternoon.
Officers are keen to speak to anyone who went to Zizzi restaurant or The Bishop's Mill pub in the town centre.
The appeal comes as the government's emergency committee Cobra meets to be updated on the investigation.
Sergei Skripal, 66, and his daughter Yulia, 33, remain critically ill after being found unconscious on Sunday.
The pair were found slumped on a bench outside the Maltings shopping centre.
Scientists at the UK's military research facility at Porton Down are examining an "unknown substance".
In the latest police statement, Assistant Commissioner Mark Rowley, head of Counter Terrorism Policing, said: "The two people taken ill were in Salisbury centre from around 13:30 GMT.
"Did you see anything out of the ordinary? It may be that at the time, nothing appeared out of place or untoward but with what you now know, you remember something that might be of significance.
"Your memory of that afternoon and your movements alone could help us with missing pieces of the investigation.
"The weather was poor that day so there were not as many people out and about. Every statement we can take is important," he added.
Cordons have been erected around the town centre, with another now in place near Solstice Park, a business park in Amesbury, a town about 10 miles from Salisbury.
This is linked to the investigation and is a precautionary measure, the police said.
The Cobra meeting is being chaired by Home Secretary Amber Rudd. The cross-departmental committee meets to examine government responses to national emergencies.
BBC Newsnight's diplomatic editor Mark Urban said scientists at Porton Down have still not identified the substance the pair are thought to have been exposed to, with one official saying they were being treated for "symptoms rather than causes".
Prof Alastair Hay, from the University of Leeds, said test results could take several days.
Two police officers caught up in the suspected contamination were treated in hospital for minor symptoms – believed to be itchy eyes and wheezing – before they were given the all clear.
A third member of the emergency services remains in hospital.
Relatives of Col Skripal, who was convicted in Russia in 2006 of spying for Britain, have told the BBC Russian Service that he believed the country's special services might come after him at any time.
It has been said his only friends in the UK are in the British intelligence services, but he has also joined his local railway club and given lectures at military academies.
His wife, elder brother and son have all died in recent years, some in mysterious circumstances, the family believes.
Ms Skripal lives in Moscow and has visited her father in the UK regularly, especially during the past two years.
Family and friends say she did move to the UK but missed Russia so returned to Moscow where she has worked for multinationals, including Nike and PepsiCo.
It is thought her latest visit to the UK may have been timed to coincide with her late brother's birthday.
Alexander Skripal died aged 43 last July in St Petersburg from liver failure in what relatives believe to have been suspicious circumstances, Newsnight said.
He is buried in Salisbury close to his mother, Liudmila Skripal, who died of cancer in 2012.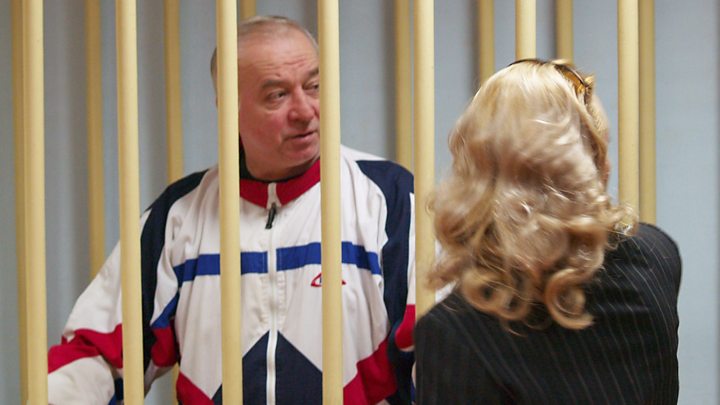 On Tuesday, Foreign Secretary Boris Johnson told MPs the UK would respond "robustly" to any evidence of Russian "state responsibility" in the case.
He said that could include sanctions and asking UK dignitaries not to attend the World Cup in Russia this summer.
The foreign secretary said he was not pointing fingers, but described Russia as "a malign and disruptive force".
During the urgent question in the Commons, Labour's Yvette Cooper raised reports by BuzzFeed that 14 deaths in the UK had been linked to Russia by US spy agencies.
Ms Cooper, chairwoman of the Home Affairs select committee, asked Mr Johnson and the home secretary to order the National Crime Agency to urgently review the cases.
Mr Johnson said there were "a number of deeply troubling cases" and he would "certainly have that discussion with the home secretary".
Get news from the BBC in your inbox, each weekday morning
The possibility of an unexplained substance being involved has drawn comparisons with the 2006 poisoning of Alexander Litvinenko – a public inquiry concluded the killing of the Russian dissident had probably been carried out with the approval of the Russian President, Vladimir Putin.
Former MI5 officer Annie Machon pointed out that the two cases were very different, however.
Mr Litvinenko was a whistleblower, a dissident and a consultant for MI6 actively at the time of his death, she said, whereas Mr Skripal has already been caught, convicted and pardoned and allowed to freely find safe haven in the UK.
"There's no conceivable reason that I can see that the Russian state would have been targeting him at the moment," she told BBC's Breakfast. "That's why we need to think about what else he might have been involved in."
Russia has insisted it has "no information" about what could have led to the incident, and says it is open to co-operating with British police if requested.
In a statement, the Russian embassy in London said: "Media reports create an impression of a planned operation by the Russian special services, which is completely untrue."
Who is Sergei Skripal?
Colonel Skripal, a retired Russian military intelligence officer, was jailed for 13 years by Russia in 2006.
He was convicted of passing the identities of Russian intelligence agents working undercover in Europe to the UK's Secret Intelligence Service, MI6.
In July 2010, he was one of four prisoners released by Moscow in exchange for 10 Russian spies arrested by the FBI.
After a Cold War-style spy swap at Austria's Vienna airport, Col Skripal moved to Salisbury, where he kept a low profile for eight years.
Do you have any information to share on this story? Email haveyoursay@bbc.co.uk.
Please include a contact number if you are willing to speak to a BBC journalist. You can also contact us in the following ways:
You can receive Breaking News on a smartphone or tablet via the BBC News App. You can also follow @BBCBreaking on Twitter to get the latest alerts.