Russia reports the evacuation of more than 9,200 civilians from the breakaway regions of Donetsk and Luhansk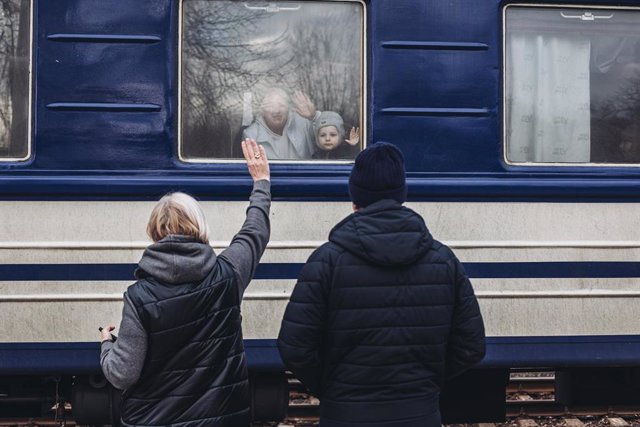 Follow live the latest news about the war in Ukraine
The Russian Defense Ministry this Monday reported the evacuation of 9,285 people from the dangerous areas of Ukraine, Donetsk and Lugansk, for which more than 2.7 million Ukrainians fled to Russian territory.
"Despite the obstacles created by Kyiv, in the last 24 hours without the participation of the Ukrainian authorities, 9,285 people were evacuated from dangerous regions of Ukraine, the Donetsk and Lugansk People's Republics to the territory of the Russian Federation, including 733 children," Russian spokesman Mikhail Mizintsev said .
In all, Moscow says more than 2.7 million Ukrainians have fled to Russian territory, while Kyiv says Russian forces are forcibly moving civilians, particularly women and children.
So it added that 975,234 people arrived in Russia, including more than 178,091 children and 127,486 units of passenger cars from Ukraine, TASS news agency reports.
"In the past week we have noticed an increase in requests related to requests for information about the fate of relatives of Ukrainians and foreign citizens who were evacuated along the humanitarian corridors declared by the Ukrainian side to the west," it said.
"People fear that their loved ones in the neo-Nazi-controlled area will become a human shield or suffer the fate of participants in the Western-led provocations," Mizintsev added.
He also stressed that various government agencies, regions, public organizations and patriotic movements have prepared more than 22,000 tons of humanitarian aid to the people of Ukraine.
"More than 22,000 tons of basic necessities and food packages, including baby food and essential medicines, have been prepared at the collection points," he added. According to Mizintsev, more than 15,020 tons of essential goods, food, medicines and medical supplies have already been shipped from Russia to Ukraine since March 2.
Russia and Ukraine have accused each other of sabotaging the evacuation of civilians from those regions while the situation was defined as a humanitarian disaster due to a lack of supplies.