Russia deploys 300 more soldiers with 20 new armored vehicles in northern Syria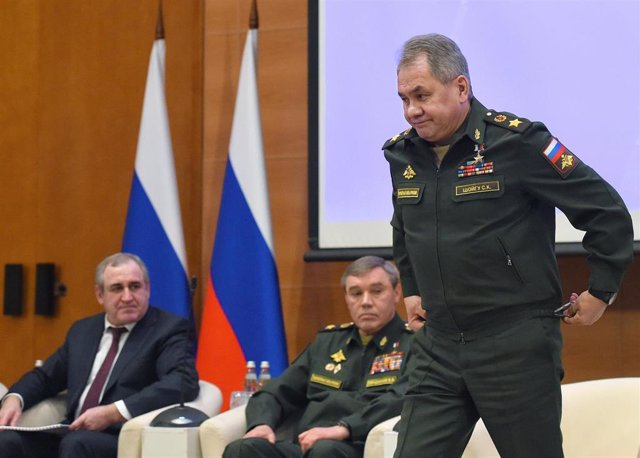 General Sergei Shoigu, Minister of Defense of Russia, before giving a speech dressed in military uniform – Dmitry Dukhanin – Archive
MADRID, Nov. 1 (EUROPE PRESS) –
The Russian Armed Forces have deployed an additional contingent of 300 soldiers with 20 new armored vehicles in northern Syria, where the Russian military police will be responsible for conducting joint patrols with Turkish military near the border with the neighboring country, said the Sputnik news agency.
On Tuesday, the president of Turkey, Recep Tayyip Erdogan, announced that Russia's joint patrols with Turkey near the Syrian border with the neighboring country will begin this Friday, after the agreement reached days before to keep the ceasefire and suspension of the Turkish military offensive Manantial de Paz.
Turkey launched the Peace Spring operation on October 9 to expel Syrian Democratic Forces (SDF) militiamen from the northeast of Syria, led by Syrian Kurdish fighters from the Popular Protection Units (YPG).
A week later, Turkey agreed with the United States a temporary suspension of the military offensive in exchange for the SDS militiamen to withdraw beyond the delimited region to establish the 'safe zone' in which Turkey intends to relocate hundreds of thousands of Syrian refugees currently in their territory.
On October 22, Turkey agreed with Russia an extension of the ceasefire and the deployment of Syrian military backed by Russian police in northeastern Syria whenever the withdrawal of the SDF militiamen is completed.
The agreement contemplates that the forces of Syria and Russia will facilitate the departure of the SDS militiamen to be located 30 kilometers from the border with Turkey, with the deadline of October 29. After this deadline, from this Friday, Russian and Turkish military will begin to carry out joint patrols ten kilometers from the border of Syria with Turkey.