Russia bombs several medical facilities in Mariupol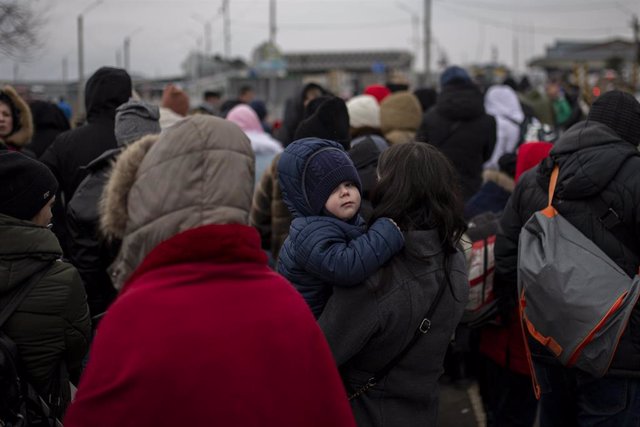 Follow live the latest news about the war in Ukraine
Selenskyj describes the attacks as "atrocities" and again calls for a no-fly zone
The United States joins in condemning what it has described as a "cruel and barbaric" attack on the innocent
Russian authorities this Wednesday bombed several medical facilities in the city of Mariupol, located in south-eastern Ukraine, whose capture is key to Russia's bid to unite the Crimean peninsula with rebel-held Donbass areas.
Pavlo Kirilenko of the Donetsk Regional Military Administration has said a maternity hospital, a medical center and other health facilities in the region have been attacked by Russian forces, according to a statement published on Facebook.
"Russians, you have not only crossed the line of what is acceptable in relations between states and peoples, you have also crossed the line of humanity," said Kirilenko, who also celebrated that they have no regrets about the deceased at the moment . although the number of injured is now 17 people.
Ukrainian President Volodymyr Zelenskyy has condemned the airstrikes, calling the situation an "atrocity". "There are people, children, under the rubble. How much longer will the world be complicit and ignore terror? Declare the no-fly zone immediately! Stop the Killing! You have the power, but it seems that you are losing humanity," he explained on his Twitter account.
For his part, Ukrainian Foreign Minister Dimitro Kuleba has called on the international community to intervene in the siege of the city where around 400,000 people are being held hostage by Russian troops.
In a message published on his Twitter account, he called on the West to use force to "stop this barbaric war against civilians and babies" and insisted that Russia "provide humanitarian aid and the evacuation of civilians in the city". blocked," where "indiscriminate bombing continues." "Nearly 3,000 babies need food and medicine. I urge the world to act," he added.
Likewise, the deputy mayor of Mariupol, Serhiy Orlov, has conveyed his perplexity about the Russian bombing of medical facilities to the British chain BBC. "We don't understand how in modern life it's possible to bomb a children's hospital," he said.
INTERNATIONAL RESPONSE
The attack on medical facilities in Mariupol has sparked outrage from several international leaders, including British Prime Minister Boris Johnson, who believes "there are few things more depraved than attacking the vulnerable and defenseless".
In a message on his social media, Johnson stressed that his government was considering the possibility of providing more support to Ukraine to defend itself against airstrikes and assured that the UK would hold Russian President Vladimir Putin "accountable". for their terrible crimes.
Along the same lines, British Foreign Secretary Elizabeth Truss has called the attack "absolutely heinous" and echoed her prime minister's words about a possible strengthening of Ukraine's anti-aircraft capability.
The United States joins in condemning what it has described as a "vile and barbaric" attack on innocents at a children's hospital in Ukraine.
US Assistant Secretary of State Wendy Sherman tweeted her outrage at the attack, saying she was "horrified, outraged and heartbroken by credible reports that a Russian airstrike destroyed a maternity hospital and children in Mariupol."
The spokesman for the Secretary-General of the United Nations, Stéphane Dujarric, has also lamented the recent incidents in Mariúpol and reiterated his call for an "immediate cessation of attacks on medical facilities".
"The World Health Organization (WHO) has called for an immediate halt to attacks on medical facilities, hospitals, health workers and ambulances. Neither should be a target," Dujarric said, according to CNN.
UNICEF FEARS "THE WORST"
Similarly, the United Nations Children's Fund (UNICEF) has denounced that the attack buried "childbearing children and women" under rubble, leading the organization to "fear the worst".
"Horrified by the attack on the Mariúpol Mother and Child Hospital (…) We don't know the number of victims yet, but we fear the worst. Peace now," the agency broadcast in an accompanying publication on its social networks Image in which captioned "Hospitals are not a target."
Likewise, UNICEF has indicated that if this information is confirmed, it would further highlight "the horrific number of casualties this war is inflicting on children and families in Ukraine." In less than two weeks, 37 children have already lost their lives and another 50 have been injured, while "more than a million" have already fled the country.
"Attacks on civilians and civilian infrastructure – including hospitals, water and sanitation systems and schools – are unthinkable and must stop immediately," they said.
Finally, UNICEF has reiterated its call for an immediate ceasefire, urging the parties to "respect their obligations under international humanitarian law" to protect minors. "Children urgently need peace now," the United Nations organization has decided.