Rush to buy Trump-Kim coin after summit cancellation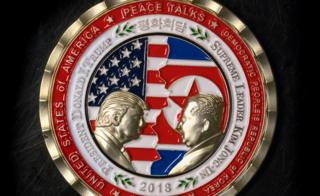 The Trump-Kim summit isn't happening – but has that only added to the allure of special coins made to commemorate the event?
Confusingly, there are in fact two commemorative coins doing the rounds.
The focus of most of the attention is the coin created by the White House Communications Agency (WHCA) – it hails the talks between Mr Trump and "Supreme Leader" Kim Jong-un.
Such coins are often presented to foreign guests and diplomats.
The other features silhouettes of Mr Trump, Mr Kim and South Korean President Moon Jae-in and is available from the White House Gift Shop website. Its popularity appears to be soaring, with demand crashing the site.
The coin had been offered at a discount price of $19.95 (£14.90), down from $24.95, earlier on Thursday, with the gift shop also offering refunds if the summit did not take place.
But it said "most supporters have said they want this heirloom of political history regardless of outcome".
That does seem to be the case.
BBC North America Correspondent Anthony Zurcher says the WHCA coin could be the "1804 Dollar" of numismatics – referring to a series of coins created for diplomatic gifts in the 1800s that now command ultra-high prices.
The WHCA coin was not requested by Mr Trump or his team – but it has nevertheless provided an opportunity for people to lampoon him online.
Could Mr Trump have sent half of the coin to Mr Kim as a declaration of love, as former Pentagon spokesman Adam Blickstein suggests?
Did the coin in fact help make Mr Kim the winner in the situation?
The snark factor went up further when writer Brian Krassenstein said Mr Trump could hang the coin "next to his fake Time magazine cover" – referring to a Washington Post report revealing that several of Mr Trump's golf clubs prominently display a framed copy of a fake Time cover featuring several positive headlines and Trump as its cover.
One social media user said the coins could just have been another way for Mr Trump to boost his business empire.
Would the president be using them to pay people, wondered Paul Ryckert who posted a photo of the president looking at young lawnmower entrepreneur Frank Giaccio. The 11-year-old had written to the president asking to mow the White House lawn.
Or would they simply find their way on to eBay, as President Obama's former chief strategist David Axelrod said.
However, not everybody thinks the coin is funny.
North Korea analyst Robert Kelly had earlier said it legitimised Mr Kim's "personality cult" and was "un-American".
Following this and other criticisms, the White House put out a statement saying it "did not have any input into the design" of the coin.