Rural police 'could routinely carry guns'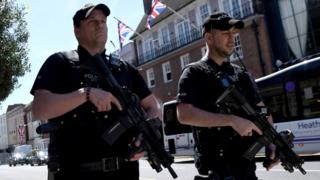 Front-line officers in remote, rural communities could be routinely armed in order to deal with terror threats, police chiefs have said.
The move is being considered by the National Police Chiefs' Council because of a lack of specialist counter-terrorist firearms officers.
It comes after a drive to recruit these officers in England and Wales fell short by about 100.
Police said arming officers in remote areas would be a last resort.
Counter-terrorist specialist firearms officers (CTSFOs) are trained with special forces to deal with a raft of situations, including hostage rescues and terror attacks.
Plans were put in place to bolster the UK's capacity for armed responses in the wake of the Paris terror attacks in 2015, in which 130 people died.
Over the past two years, the Home Office has funded an extra 874 armed officers in England and Wales – bringing the total to more than 6,400 in April 2017.
But on a practical level, police chiefs have estimated that in rural communities, such as Devon and Cornwall, a firearms unit could be between 30-70 miles away in the event of a major incident.
Analysis
By Home affairs correspondent Danny Shaw
Two years ago, police warned that "unarmed and vulnerable" officers in rural communities would be "sitting ducks" in the event of a terror attack.
Since then, huge investment and effort has gone into improving armed police capacity and capability, as the latest announcement shows – but gaps remain.
Armed response vehicles (ARVs), which are intended to be first on the scene of a firearms incident, are an expensive asset, with 13 officers required to double-crew a vehicle 24 hours a day, seven days a week.
That's why police chiefs are looking at alternatives to deploying ARVs in areas where there's a low risk of a terror attack, such as allowing front-line officers to carry guns.
It goes against the grain of British policing for officers to be routinely armed, but there's increasing support for it among those polled in a Federation survey and it remains firmly on the table as an option.
Simon Chesterman, National Police Chiefs' Council lead for armed policing, said: "Of course there are communities within England and Wales where an attack is highly unlikely.
"But ultimately, if something does happen, we have got to be able to provide an armed response."
Mr Chesterman said the training and demands of being a CTSFO meant there was a high turnover rate, and some officers were put off by the level of scrutiny that police face when police open fire in the line of duty.
He explained that police chiefs had conducted "many layers of the analysis… to understand where is best to place these officers".
"We can't put an armed police officer on every street corner everywhere across the whole of the United Kingdom, so what we've had to do is analyse the threat."
He said discussions were ongoing in a "handful" of police forces over how to improve response times – and whether some form of routine arming might be appropriate.
Mr Chesterman was clear that arming rural police forces "does not need to happen at the moment".
"This is not, if you like, a favoured option," he told the BBC's Danny Shaw.
"But I can't rule it out at this stage, in terms of making sure that all communities get the right level of protection from armed police."
Around 90% of British police officers are currently unarmed.
Any decision on arming officers is a matter for the chief constable of each of the 43 local forces covering England and Wales, as well as the national British Transport Police.