Rugby player Scott Moore jailed after high-speed chase and assaults on police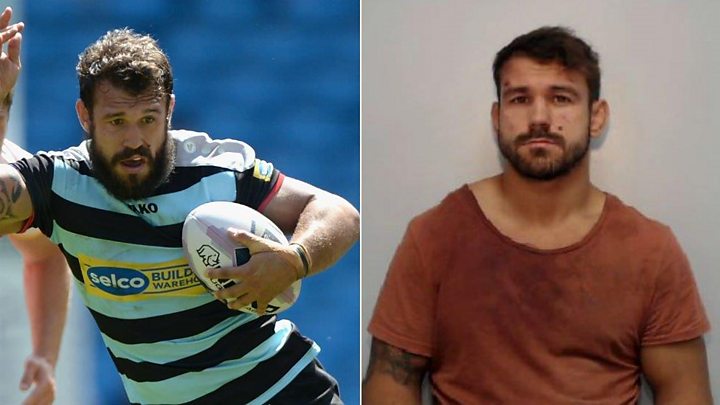 A professional rugby player, Tasered six times after driving at 150mph in a police chase, has been jailed.
Scott Moore crashed into a house in Leigh and fought officers, threatening one with a Taser he stole from them.
The ex-England rugby league star, 30, used "his size and experience on the rugby field" to evade arrest, Greater Manchester Police said.
He was jailed for 23 months at Bolton Crown Court after admitting dangerous driving and assault.
Moore, of Ranworth Drive, Lowton, Wigan, was disqualified from driving for two years.
Police spotted Moore in the early hours of 14 October 2016 driving a black Mercedes at speed along Chaddock Lane towards the East Lancashire Road.
He refused to pull over, sparking a pursuit during which he overtook a lorry at 100mph on a stretch of roadworks which had a speed limit of 30mph.
He then accelerated at more than 150mph into a housing estate in Leigh and crashed into the wall of a house before stopping at a dead end, police said.
'Tug of war'
Moore elbowed an officer and "violently resisted arrest in a struggle lasting 50 minutes" during which he was Tasered six times but "kept rising to his feet to fight and charge at officers".
At one point, the former St Helens, Widnes and Wakefield hooker grabbed the Taser's wires after being stunned and removed them from his body.
He then grabbed the Taser in a "tug of war" with the officer, shouting: "You're getting it now!" while pointing it at the officer's face, police said.
The terrified officer fought with Moore to release it from his hand and the other officer struck him numerous times. Moore eventually dropped the Taser and, following a further struggle, was detained.
The officers had never in their careers "been so scared nor witnessed such a violent individual", Det Con Lynsey Watson-Perry said.
One officer had to undergo surgery.
"Whatever level of force he is used to displaying on the pitch, this was not a game – people's lives were in danger", she added.