Rudd-less May faces perilous week
Amber Rudd's resignation late on Sunday will be most unwelcome of those situations, marking an intensification rather than the passing of a political crisis.
It already had the potential to be a disastrous week for the Prime Minister.
The Windrush scandal ground on, as members of the Cabinet began to attack the main Civil Service negotiators on Brexit ahead of a key decision on customs to be made on Wednesday.
The Lords will defy the Government by voting for significant new powers for the Commons over rejecting the PM's EU Withdrawal Deal.
Key European officials including Michel Barnier are in Ireland discussing Brexit.
And then the local elections concentrating in big English cities, and mainly London, are on Thursday, with results on Friday.
And now the resignation of one of the biggest beasts in Cabinet.
:: Frustration and relief: Inside an immigration centre with the Windrush generation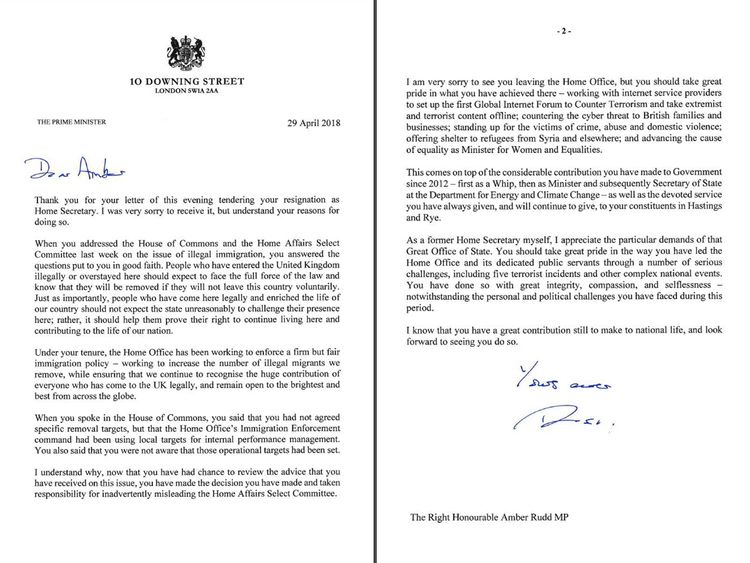 In the first instance, this does not seem to be the sort of resignation that will calm down a problem story for the Government. The Windrush crisis continues.
The specific problem for Ms Rudd was her answer to Home Committee Chair Yvette Cooper last Wednesday claiming that there were no targets for enforced removals.
There followed bemusement from Home Office unions, in an interview to Sky News then fed straight back to Ms Rudd at the Select Committee.
And then four days of claim, counter-claim, and leaks from the Home Office confirming that yes, there were effective deportation targets, and Ms Rudd had asked for them in correspondence with the PM.
Significantly, in her letter, the outgoing home secretary said she had "inadvertently misled" the Committee, and looks to have jumped rather than been pushed by Downing Street.
The immediate consequences for the PM involve recruiting a new Home Secretary, 48 hours before the key Brexit subcommittee on customs and trade.
That person will have to keep the Cabinet balanced in terms of Brexit and gender.
And above all that person will have to continue to protect the PM from the finger of blame over the continuing Windrush scandal.
The PM's hostile environment for illegal immigration we now know did include removals targets.
While the Home Office says no Windrush era citizens were deported, it is less clear if they or their children were caught up in the consequences of a removals target.
It is still unclear whether the PM while she was Home Secretary applied, increased or recalibrated such a policy herself.
The Opposition has quickly moved on from the Rudd resignation to point a finger at the PM herself.
An already tricky week just got rather perilous for Number 10.
And all that not even taking into account a Big Beast of the Remain wing of her party, nursing grievances on the backbenches, at a time of delicate potential Brexit rebellions.