Royal wedding: Windsor set for rehearsal of carriage procession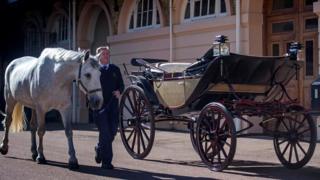 A rehearsal of the carriage procession through Windsor for the wedding of Prince Harry and Meghan Markle is due to be held.
More than 250 members of the armed forces will take part in the rehearsal – along with the couple's carriage.
After tying the knot on Saturday, Harry and Ms Markle will travel through Windsor in the Ascot Landau carriage.
Used in official and ceremonial state events, the carriage will be pulled by Windsor grey horses.
On Saturday the procession will take place at 13:00 BST, after the hour-long service at St George's Chapel.
Members of both families will gather on the steps of the chapel to wave off the newlyweds on their carriage procession, which is expected to last about 25 minutes.
The carriage will leave Castle Hill, travel through Windsor and then it will proceed up the Long Walk all the way back to St George's Hall by Windsor Castle.
Kensington Palace revealed on Wednesday that Prince Harry's niece, three-year-old Princess Charlotte, will be one of six bridesmaids at the wedding.
Her elder brother, Prince George, aged four, will be a pageboy alongside three other young boys.
The 10 children who have been chosen are all aged seven or under.
So far, the details of the bridesmaids' dresses and the pageboys' uniforms remain under wraps.
Ms Markle, 36, will not have a maid of honour because she wanted to avoid choosing between her closest friends.
It is still unclear who will walk her down the aisle after it was reported that her father was due to have heart surgery.
Thomas Markle had told US website TMZ he would not go to the wedding amid a row over paparazzi photographs; then that he would; then that he could not because of a planned heart procedure.
Kensington Palace has declined to comment.
Meanwhile, a petition organised by campaign group Republic has been handed to MPs.
Signed by 32,000 people, the petition calls on MPs to make the Royal Family pay for the security and policing surrounding Saturday's wedding and for the government to publish a report of all costs to taxpayers.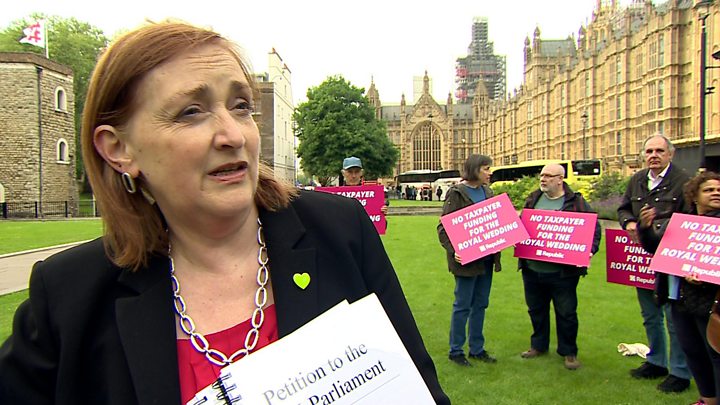 Republic chief executive Graham Smith said: "There is nothing inevitable about the public spending on a royal wedding. If the royals don't want to pay a big security bill they could have had a private wedding in Sandringham or Balmoral."