Royal wedding weather to be sunny and warm – Met Office
The happy couple can rest assured it won't rain on their parade in Windsor, with highs of around 18C predicted for their big day.
Wellwishers can also give their street party plans the go-ahead with forecasters saying the weather will be "pleasantly warm" across most of the country.
A Met Office spokesman said: "We have a good indication of what the weather is likely to be for the royal wedding – it is going to be mostly settled this week and that will continue on in to the weekend.
"It will be mostly dry with sunny spells with perhaps a northerly or northeasterly breeze. We can't rule out a shower although to be honest that's looking quite unlikely at the moment.
"Temperatures will be about normal for the time of year with highs of 17 or 18 degrees and during the sunny spells it will feel pleasantly warm.
"It's looking like good weather for a wedding – you wouldn't want it to be too hot."
:: The ultimate guide to the Royal Wedding
He continued: "There's no signs of any severe weather. It doesn't look like it will be a washout or really windy or anything like that."
Most of the country is set to share the fine weather, although there is a chance of some rain in northwestern parts of the UK.
The spokesman said: "Going into Saturday night some parts may see some rain, particularly towards the North West but for the wedding itself it should stay dry."
Sky News weather forecaster Christopher England said: "It's a week away so everything could change but it should be fine with a small chance of showers from an area of high pressure nearby.
"All the indications are that it should be pleasant for Harry and Meghan and all of the wellwishers out on the streets – not too hot and not too cold."
Met Office historical data for Reading and Heathrow, both close to Windsor, offer promising statistics for previous years.
Figures showed the average maximum temperatures for each location between 1981 and 2010 were 18.1C and 17.1C respectively.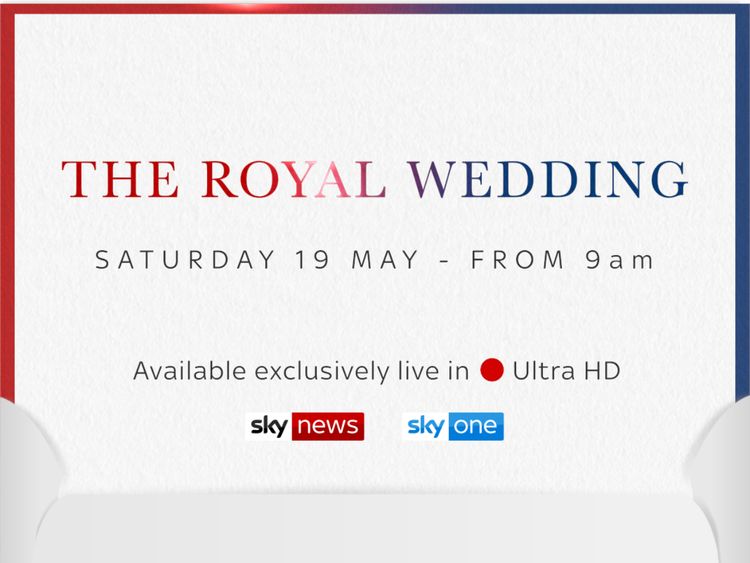 Harry and Meghan's big day falls less than two weeks after the UK sweltered in record-breaking Bank Holiday temperatures.
The Met Office recorded a high of 28.7C at Northolt in west London, beating the previous high for that day of 28.C.
Members of the public hoping to see the royal procession in Windsor have been advised to set off as early as 4am.
Great Western Railway (GWR), which operates trains to the Berkshire town, is urging passengers "to travel early and travel light" on the day.
Roughly 100,000 people from around the world are expected to arrive in Windsor for the occasion.
:: Sky News will broadcast live in Windsor the week before the royal wedding with all the build up to the big day, with exclusive live coverage of the wedding in UHD in a special programme ‪from 9am to 3pm on Sky News and Sky One ‪on Saturday 19 May