Royal wedding: Meghan Markle's father to walk her down aisle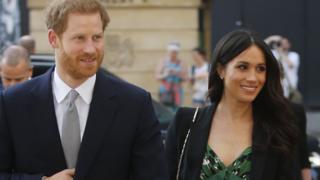 Meghan Markle's father will walk her down the aisle when she marries Prince Harry, the BBC understands.
The US star's parents will arrive the week before the wedding to meet senior royals including the Queen and the Duke of Edinburgh.
They will also meet her fiancé's father, Prince Charles, as well as Camilla, Duchess of Cornwall and the Duke and Duchess of Cambridge.
It will be the first time Ms Markle's father, Thomas, has met Prince Harry.
Meanwhile, Ms Markle will not have a maid of honour and all of her bridesmaids and pageboys will be children.
Ms Markle "has a very close-knit group of friends and did not want to choose between them", Kensington Palace's communications secretary Jason Knauf said.
The palace released the new details with just over two weeks until the royal wedding in Windsor on 19 May.
Ms Markle will travel with her mother to the church by car while Prince Harry will arrive with his brother Prince William, who he announced as his best man last month.
Newborn Prince Louis, who will be three-weeks-old at the time of the wedding, is not expected to be there.
But the Duke of Edinburgh, 96, will attend, despite undergoing a hip replacement last month and being absent at other recent royal events.
During the ceremony, Lady Jane Fellowes, one of Princess Diana's older sisters, will give a reading in a nod to the Spencer side of the family.
The location of the couple's honeymoon has not yet been revealed.
But the first royal engagement of Ms Markle, 36, and Harry, 33, will be the week after the wedding.
It had not been known what role Ms Markle's parents would play in the wedding.
Kensington Palace said in a statement: "Ms Markle is delighted to have her parents by her side on this important and happy occasion."
The Suits actress' father, Thomas Markle, and mother, Doria Ragland, divorced when she was six years old.
Mr Markle was a cinematographer, working on programmes including the 80s TV show Married with Children, when his daughter began her own acting career.
According to Samantha Grant, Ms Markle's half sister from her father's first marriage, their father Thomas was "completely self-sacrificing" and "the glue of our family".
Kensington Palace also released details of what members of the public can expect on the day.
More than 1,000 people have already been invited into the grounds of Windsor Castle for the wedding.
Food stalls and big screens will be set up near to the Long Walk and viewing areas will be set up along the procession route.
Windsor town centre will be decorated with bunting and ceremonial banners along parts of the route and there will be live entertainment.
The couple will travel through the town in a carriage before arriving at St George's Chapel for the ceremony, to which 600 guests have been invited.