Royal wedding couple: You may now eat the bride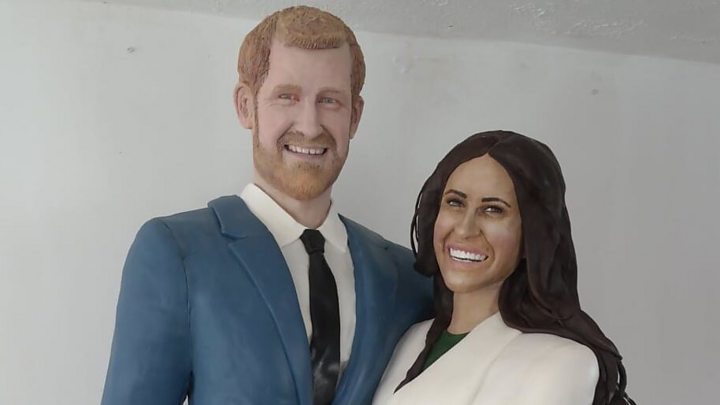 It is a wedding cake like no other- a life-sized replica of the royal couple.
Amateur baker Lara Mason, from Brownhills, has made a cake looking like Prince Harry and Meghan Markle to celebrate the big day.
If you want to guess the bride's weight, she and Prince Harry are made of 15kg each of flour, butter and sugar, 20kg of modelling chocolate and 50kg of fondant.
The wedding is on 19 May in Windsor.
There is enough cake to feed more than 500 people, not quite enough for the couple's 1,200 wedding guests.
But the cake does not have an invitation and will instead be displayed at the Cake International show in Birmingham in November.
Mrs Mason spent 250 hours over six weeks crafting her creation.
She said the most challenging part of the bake was "sculpting the very recognisable faces", which are made out of chocolate.
Even the eyes are edible, she said. They are made from poured sugar.
You may also be interested in:
The royal icing on the cake is the couple's outfits, sweet versions of what they wore the day they announced their engagement.
It is not the first time the "couple" have been out and about in the run up to the wedding.