Royal wedding 2018: 'Why I walked myself down the aisle'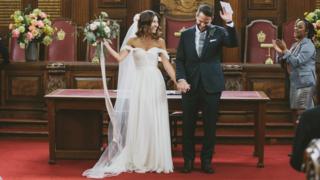 Kensington Palace described the news that Meghan Markle's father may not walk her down the aisle as a "deeply personal moment" for the actress.
But while Ms Markle may not have opted for this break with tradition, an increasing number of women are choosing not to be "given away" by their parents.
Zoe Carter-Mackay, who walked herself down the aisle, says that before getting married she and her husband-to-be asked themselves which traditions "felt right" and which felt "weird".
"That was the starting point for thinking whether – as a 35-year-old – I should be given away by my dad to another man," she says.
"My parents divorced when I was 14 – I have a great relationship with my dad but I also have four parents now, as both remarried.
"I think a lot of women who have divorced parents think whether their mum or their brother might walk them down the aisle.
"For me it just felt right that I would walk myself – I wasn't being given away. When I came to end of the aisle I gave my dad a kiss, which was acknowledging my respect for him."
A recent YouGov poll showed that 69% of Britons remain in favour of fathers walking their daughters down the aisle – though that figure is down from 82% in 2014.
Sarah George, of Bride magazine, argues the principles behind the tradition are "outdated and old fashioned".
"Nowadays, we see more variations," she says, "with some opting to go it alone or with a pet by their side, walking arm-in-arm with their mother or a sibling, or most unconventionally of all – arriving at the altar with their husband- or wife-to-be."
Why do fathers walk their daughters down the aisle?
Fathers traditionally walked their daughters down the aisle as a symbolic gesture stemming from the idea that daughters were considered the property of their fathers.
Daughters were exchanged for a dowry or bride price, after which they became the property and financial responsibility of their husband.
In England, the idea that women were property began to be eroded in the 14th Century following a series of laws introduced by King Richard II establishing both men and women's individual employment rights.
The Married Women's Property Act 1882 formally ended the concept by enshrining in law married women's ability to independently own and control property in the UK.
Dr Kathleen Puech was accompanied down the aisle by both parents when she married her husband 20 years ago – and feels it is time to "move past the point when a woman is given by one man to another man".
"I don't agree with the system of a man giving away a woman to another man," she says. "It's fundamentally wrong and we need to change it.
"Women need to realise it is wrong and we need to stand up for ourselves.
"Ideally, I think a woman should give herself away. She's making this step, not her parents, but if you want to keep a bit of tradition you can have both parents."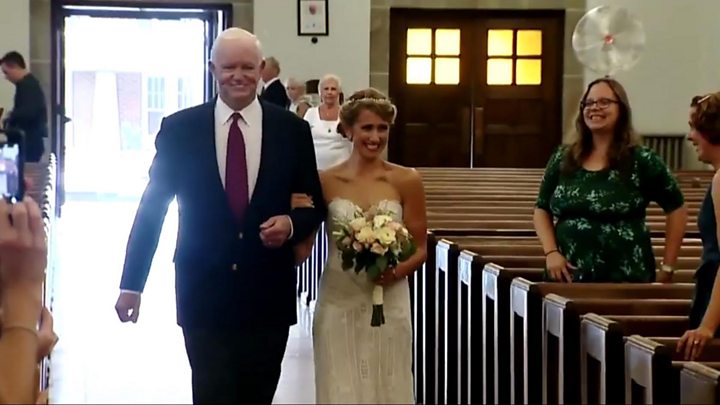 The change in attitudes towards weddings is not limited to ceremony entrances, either. Multiple best men and maid of honour speeches are not uncommon while many women are opting to keep their own names.
"I actually grew up in India," says Dr Puech. "Lots of my Indian friends haven't changed their names and yet all of my female British and Irish friends have – it's odd, as India is meant to be far less progressive."
"It's not even just weddings," adds Ms Carter-Mackay. "I think there's a lot of questioning the way things have always been. I think a lot of them are based around stereotypes and gender roles.
"I don't think there's anything wrong with traditions but I'm a mix of traditional and modern and it's fine to cherry-pick what feels right to you."