Royal wedding 2018: How to watch the events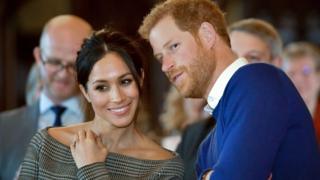 So you weren't invited.
Don't despair. Royal weddings are a global phenomenon. And hundreds of millions of people are expected this Saturday to witness Prince Harry marry Meghan Markle in St George's Chapel at Windsor Castle, whether on television or online, or by listening to proceedings on the radio.
The streets of Windsor, Berkshire, will also be lined with thousands of well-wishers hoping to catch a glimpse of the happy couple in person.
So whether you're watching from your sofa, a community street party or a far-flung location, here's how to ensure the perfect view.
Television, radio and online
All the main UK broadcasters are devoting much of Saturday to the occasion.
While the ceremony doesn't begin until 12:00 BST, there will be several hours of commentary beforehand – and that's even before the guests start to arrive.
Special programmes begin on BBC One and the BBC News Channel and on Sky (on Sky News and Sky One), starting at 09:00 BST. The full coverage on ITV kicks off at 09:25.
It is worth noting that cameras inside the chapel will provide the same pictures to all the networks, so once the ceremony starts, the footage will be identical across the channels, although they will keep their separate commentaries.
The BBC has waived the TV licence fee, meaning street parties and other special events can screen the wedding live without buying a licence.
The coverage will be streamed live on the BBC News website.
The wedding will also be covered on the BBC News Facebook page, Twitter and Instagram accounts throughout the day.
On radio, Claire Balding will host live commentary from Windsor Castle on BBC Radio 4 and Radio 5 live from 11:30 BST.
Outside the UK, BBC America, BBC Canada and BBC World News will be broadcasting coverage.
Or you can tune in on BBC World Service radio.
Where to watch in Windsor?
In Windsor, viewing areas will be created along the procession route. There will be live entertainment in the town centre, which will be decorated with bunting and banners.
Big screens showing live footage of the wedding will be shown on the Long Walk and in Alexandra Gardens in Windsor.
At 13:00 BST, the newlyweds will travel through the town in the Ascot Landau carriage, which is used in official and ceremonial state events.
The carriage will leave Castle Hill, travel through Windsor and then proceed up the Long Walk, all the way back to St George's Hall by Windsor Castle.
Rail bosses advise that trains will be "extremely busy".
Queuing systems will be introduced at several stations – most likely London Waterloo, Slough, Staines and the two stations in Windsor – to avoid overcrowding on platforms.
Services between Windsor and Slough will run every 20 minutes, with trains increased from two carriages to four – the maximum that can operate on the local line.
South Western Railway will double its direct Windsor services from London Waterloo to four per hour and use 10-carriage trains.
Make sure you get there early, though – Thames Valley Police may order trains not to stop at Windsor if visitor numbers become a safety issue, and the wedding route could be closed off to latecomers.
Passengers are also being asked to keep baggage to a minimum as security checks on excess luggage could delay journeys.
People planning to travel by car are being warned by the Royal Borough of Windsor and Maidenhead to book parking in advance, as spaces are limited.
Motorists should also be aware of road closures along the procession route, starting at 22:00 BST on Friday.