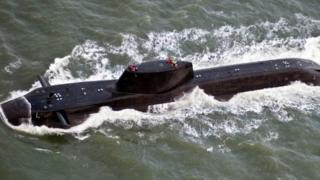 The defence secretary is expected to announce a £2.5bn investment in the UK's nuclear submarine programme.
Under the plans, an Astute hunter-killer submarine will be built costing £1.5bn, and £960m will go towards completing a fleet of four nuclear-armed Dreadnought submarines.
Gavin Williamson will say it is part of a commitment to secure the UK "from intensifying threats".
Royal Navy nuclear submarines to get £2.5bn boost
The Ministry of Defence says the deal will help to sustain thousands of jobs.
Mr Williamson will announce the plans during a visit to defence giant BAE Systems' shipyard in Barrow-in-Furness in Cumbria.
He will say the Astute submarine – which will complete the Royal Navy's seven-strong fleet of hunter-killer attack subs – will be called Agincourt.
The deal with BAE will also help with the second phase of construction for the UK's Dreadnought submarines.
'Keep Britain safe'
While at the factory, Mr Williamson will unveil a plaque and officially open a new £100m sub-construction building which will be used to outfit and test the submarines.
He will say: "This multibillion-pound investment in our nuclear submarines shows our unwavering commitment to keeping the UK safe and secure from intensifying threats.
"Agincourt will complete the Royal Navy's seven-strong fleet of hunter-killer attack subs, the most powerful to ever enter British service, whilst our nuclear deterrent is the ultimate defence against the most extreme dangers we could possibly face."
He will also stress the importance of the boost for Barrow – "the heart of sub-building in this country".
"Today's news supports 8,000 BAE Systems' submarine jobs, as well as thousands more in the supply chain, protecting prosperity and providing opportunity right across the country," Mr Williamson will say.
The announcement comes days after MPs criticised the Ministry of Defence for its "unrealistic" spending plans.