Roseanne Barr's five most controversial moments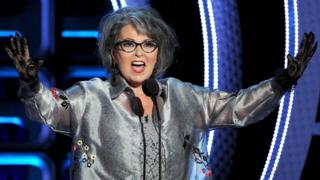 US comedian Roseanne Barr, who recently made a splash with the successful reboot of her '90s TV sitcom, has landed in hot water after posting a racist tweet likening an African-American former Obama aide to an ape.
Broadcaster ABC said on Tuesday the comments were "abhorrent" and pulled the plug on Barr's self-titled show, despite it drawing more than 18 million viewers for its first episode.
It was only recently that Barr, 65, who has previously implied that she may make a second run for US president, was being congratulated by Donald Trump over her success.
But Barr has been caught up in controversy several times before. Here we take a look back at five of her most notorious moments.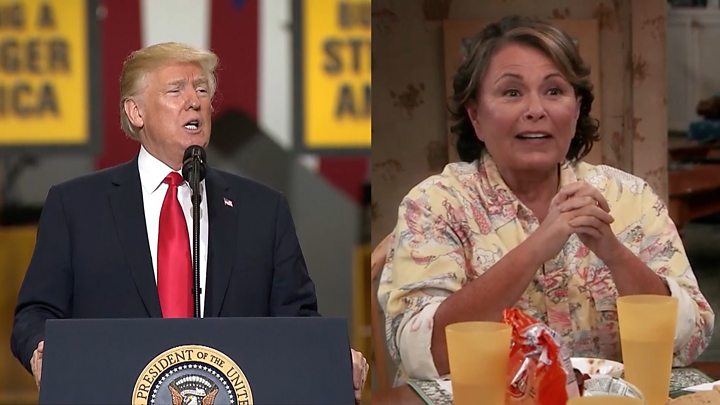 The Star-Spangled Banner: 1990
Barr took to the field at a baseball game to sing the Star-Spangled Banner.
She was booed and ridiculed for a "screechy" performance that was far from pitch perfect.
"I started too high. I knew about six notes in that I couldn't hit the big note," she later admitted.
Then-President George H W Bush labelled the performance "disgraceful".
Dressing as Hitler: 2009
The comedian was criticised after photos emerged of her dressed as Adolf Hitler in a shoot for the satirical Jewish magazine Heeb.
It was reported that the outfit – complete with moustache and swastika armband – was her own suggestion.
Barr, who is herself Jewish, said that she was "making fun of Hitler, not his victims".
Tweet leads to lawsuit: 2014
Then Barr shared the home address of George Zimmerman on Twitter. Then neighbourhood watchman was cleared over the shooting of 17-year-old Trayvon Martin in 2012 after it was determined that he acted in self-defence.
Mr Zimmerman's parents filed a lawsuit against Barr, claiming that they felt unsafe in their own home.
The comedian deleted the tweets. She had more than 100,000 followers at the time.
A conspiracy too far: 2018
In March this year, a tweet from Barr that featured David Hogg, a student survivor of the the Parkland school shooting in Florida that left 17 dead, sparked another backlash for the comedian.
In her post, Barr appeared to suggest that the student gave a Nazi salute at a protest rally calling for stricter gun control laws in Washington DC.
Responding to a tweet featuring Mr Hogg, Barr tweeted the words "NAZI SALUTE". She later deleted her tweet.
Racist 'joke' ends the show: 2018
On 29 May, the comedian apologised over a tweet in which she said that Valerie Jarrett, an African-American, was the child of the Muslim Brotherhood and the Planet of the Apes.
"I apologise to Valerie Jarrett and to all Americans," Barr said in follow-up posts in which she defended her remarks as a "joke", admitting that it was "in bad taste".
Mrs Jarrett was a senior adviser to former US President Barack Obama.
The latest tweet follows a long line of incidents, including:
a criticism of the Obama family over the signing of a deal with Netflix to produce a series of TV programmes and movies
an apology to Chelsea Clinton after claiming that she was married to a relative of billionaire investor George Soros, a bogeyman to right-wing conspiracy theorists
an allegation that Mr Soros, who is Jewish, was a Nazi collaborator who "turned in his fellow Jews 2 be murdered in German concentration camps"
Earlier this month she vowed to quit social media, blaming a "toxic" atmosphere. Then, on Tuesday…