Romanian becomes second most common non-UK nationality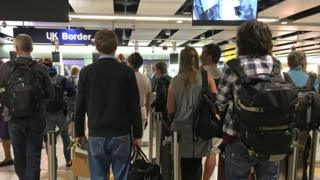 People with Romanian nationality have become the second most common non-British population living in the UK.
The Office for National Statistics says the total number of Romanian nationals rose by 25% from 2016 to 2017, reaching 411,000.
Of the 65,176,000 residents in the UK, 6.2 million were non-UK nationals – up by 4%.
The number of people living in the UK but born abroad was up by 3% from 2016 – 9.4 million of the total population.
A problem with the collection of statistics means there is no overall net migration figure.
The government has committed to a target to reduce net migration to below 100,000 in its manifestos of 2010, 2015 and 2017.
The figures show that 61% of the non-UK nationals number – or 3.8 million – are from the EU.
Poland remains the most common non-UK nationality, with an estimated one million Polish people living in the UK.
After Romania, third place goes to the Republic of Ireland, with 350,000 nationals in the UK.
India falls to fourth with 346,000 nationals in the UK – a place formerly held by Romania.
The non-UK population – both those who are born abroad or are not British nationals – has increased every year since reporting began in 2004.
'Brexit effect'
The number of applications by EU nationals for UK citizenship doubled to over 40,000 in the 12 months leading to March 2018.
The number of EU nationals issued permanent residence cards – available to those who have lived in the UK for five years – also rose to 168,000.
BBC home affairs correspondent Danny Shaw said it highlighted "the Brexit effect", as people from the EU sought certainty that they could live in the UK after it leaves the union.