Rohani says Iran will remain in the nuclear pact to benefit in 2020 from the end of the UN arms embargo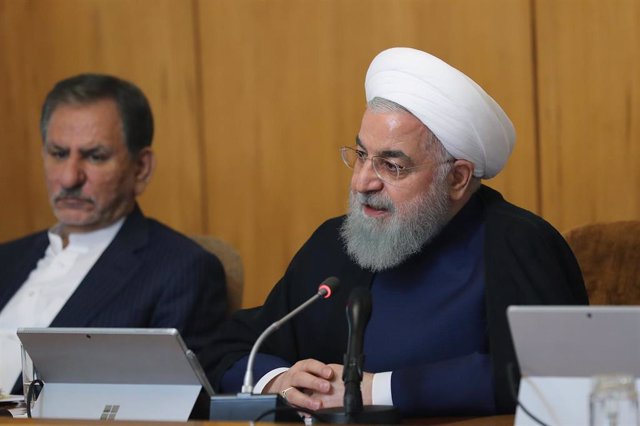 Hasán Rohani – Ebrahim Seydi / Iranian Presidency / DPA – Archive
MADRID, 11 Nov. –
Iran's President Hasan Rohani said on Monday that the country intends to remain within the nuclear agreement signed in 2015 in order to benefit from the clause on the 2020 end of the United Nations arms embargo.
"By continuing in the nuclear agreement, we will fulfill a great objective in terms of politics, security and defense," he said, before recalling that the end of the embargo was supported by resolution 2231 of the UN Security Council, which ratified the agreement.
"This is one of the important effects of this agreement. Otherwise, we could leave the agreement today, but the kind of benefits we hope to obtain next year would not exist," he argued.
Thus, he has defended the need to "think about where the interests of the country are," although he stressed that Tehran did not want to keep all of its commitments to the pact while others "did nothing."
"Therefore, we adopted a midpoint to maintain the agreement and preserve it while reducing what we agreed to do according to the agreement, step by step," he explained, as reported by the Iranian television network Press TV.
In this regard, he stressed that Iran's nuclear capabilities are now "better than ever." "We will face our enemies with all our power. We have not done anything illegal yet and we are not going to bow to your orders," he said.
Rohani has asked Western countries if "it bothers them that Fordow has been reactivated, the restart of nuclear enrichment and the acceleration (of work) in Arak." "Then they should also fulfill their commitments," he has settled.
The nuclear agreement, which involves the withdrawal of sanctions against Iran, was designed to increase the period of time that the Islamic Republic would need to accumulate enough fissile material to manufacture a nuclear bomb, going from two to three months to about a year by the restrictions to its atomic program.
Iran, which continues to deny that it will manufacture nuclear bombs, has recently given another two-month deadline to the United Kingdom, France and Germany in order to maintain the agreement. Tehran has said it is open to dialogue if Washington withdraws all sanctions and re-enters the pact.
In this regard, it has insisted at all times that the breaches of part of its obligations adopted during the last months are contemplated by the 2015 agreement in case some of the parties cease to maintain their commitments and highlighted that they are "reversible" If there is an answer to your demands.