Rohani calls Trump "global agitator" and accuses him of "worsening" the situation in several regions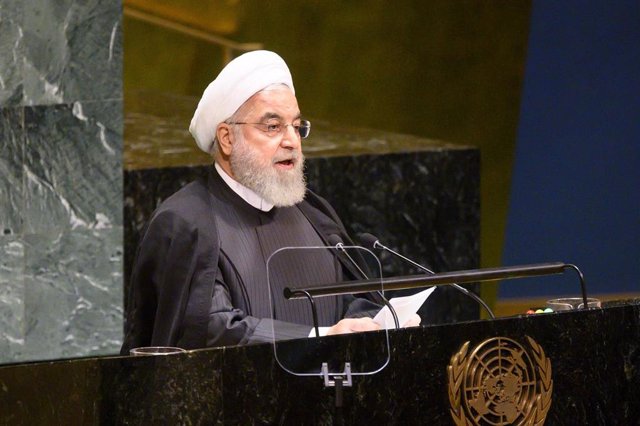 Image of the president of Iran, Hasan Rohani. – Michael Brochstein – Archive
TEHERAN, Jan. 19 (DPA / EP) –
The president of Iran, Hasan Rohani, has qualified this Saturday the president of the United States, Donald Trump, as a "global agitator" and has accused him of worsening the situation of several regions in the world.
"In the last two years, he and the United States Government have only brought riots," Rohani said in a speech in the Iranian city of Zahedán, in the southeast of the country, where he insisted that there are more crises now than when Trump's term began.
"Not only in Iran, but also in Iraq, Syria, Lebanon and Afghanistan, he (Donald Trump) has only brought problems," he said in statements collected by the Chabar chain.
For his part, Donald Trump already warned on Friday the supreme leader of Iran, Ali Jamenei, to be "very careful with his words" after criticism of the latter, who called him "clown."
"The so-called 'supreme leader' of Iran, which has not been very supreme lately, has some dirty things to say about the United States and Europe," the president said through his Twitter social network account.
Tensions between the United States and Iran have increased dramatically following the death of General Qasem Soleimani, head of the Quds Force of the Iranian Revolutionary Guard, in a bombing carried out by Washington on January 3 in the capital of Iraq, Baghdad.
Soleimani died alongside the 'number two' of the Popular Mobilization Forces (FMP) – a coalition of Iraqi pro-government militias supported by Iran – Abu Mahdi al Muhandis, and several Iraqi militiamen and Iranian military.
In response, Iran attacked with missiles two military bases located in Iraq in which American soldiers are deployed, in which the Iranian supreme leader, Ali Khamenei, described Washington as a "slap".