Rohani asks the countries of the region to make efforts to achieve the departure of US troops.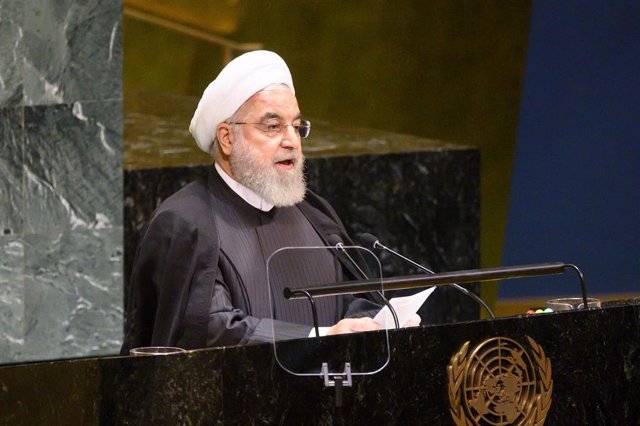 Hassan Rouhani to the General Assembly of the UN – Michael Brochstein – Archive
MADRID, Jan. 14 (EUROPE PRESS) –
The president of Iran, Hasán Rohani, said Tuesday that the countries of the region must make efforts to secure the departure of US troops, amid increasing tensions in the area.
The president has indicated that US "interference" in the affairs of the countries of the region "clearly reveals that they have never been concerned about the interests of regional nations, and will not be in the future."
Rohani, who met during the day with Syrian Prime Minister Imad Jamis, has again condemned the death of General Qasem Soleimani, head of the Quds Force of the Revolutionary Guard, in a US bombing in Iraq.
Thus, he has indicated that Soleimani "is a great and highly respected martyr not only among the Iranian people, but among all nations seeking freedom in the region and around the world," he said, as reported by the local television network Press TV
Soleimani died with the 'number two' of the Popular Mobilization Forces (FMP) – a coalition of Iraqi pro-government militias supported by Tehran -, Abu Mahdi al Muhandis, and several Iraqi militiamen, after which Iran promised to take revenge for the attack.
In response to the death of Soleimani, on January 8, Iran attacked two military bases located in Iraq with missiles in which American soldiers are deployed, in which Iran's supreme leader, Ali Jamenei, described Washington as a "slap" .
The president of the United States, Donald Trump, said hours later that the attacks have ended without casualties, although a person in charge of the Revolutionary Guard of Iran affirmed that they have killed at least 80 US military personnel.
For their part, the Iraqi authorities strongly criticized the bombing of Soleimani and the FMP and stressed that this coalition of militias was an important element in the fight against the jihadist group Islamic State.
Thus, the Iraqi Parliament approved on January 5 a motion that requires the expulsion of US troops from the country and obliges the Government to commit to making public any agreement reached in the future for the presence of foreign military advisers and trainers.
During the day of January 6, the Iraqi Executive limited the activities of the international coalition and reduced them to training and advisory work, prohibiting their movements by land and air. Therefore, the coalition against the Islamic State announced on January 9 a "pause" of its military operations in Iraq.