Roadblocks and roadblocks start the new protest day in Chile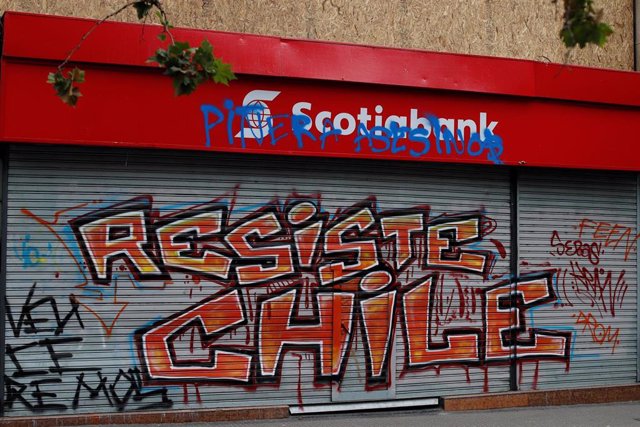 The facade of a bank branch painted in Santiago, Chile after anti-government protests in the country. – REUTERS / JORGE SILVA
MADRID, Nov. 26 (EUROPE PRESS) –
The city of Santiago de Chile has dawned on Tuesday with several roads and areas of the capital blocked after some groups of protesters have erected barricades, which has caused traffic disruption for a few hours.
These new protests, which have been taking place throughout the country for 40 days, have led to the start of a new day of mobilizations, after the union organization Mesa de Unidad Social has called on Chilean citizens to go on strike general.
As Chilean media has revealed, such as 'El Mercurio', the Ukamau movement, which claims the creation of social housing promised by the Government, is behind these latest actions. Local authorities have asked users to opt for other transport alternatives in order to restore communication on roads cut at different points in the capital.
The Carabineros' body has gone to the area and after dispersing the protesters with pepper gas, the small fires that had been caused in the barricades have been stifled. So far, only one person's detention has been notified and traffic rolls normally.
However, not only several highways and roads have been affected by the demonstrations, some metro stations in the capital have also been used as a point of claims.
The protests in Chile have already fulfilled more than a month, after the citizens decided to take to the streets before the fourth rise in the price of the subway. They were joined by groups that in turn claimed social and labor improvements, as well as education and health.
Although they have lowered their intensity in the early days, where there have been 20 deaths and thousands of wounded and detained after clashes with the police, actions on the street persist, generating temporary closures of metro stations and transport delays public.
After the fruitless first measures to repress the demonstrations using the security forces, the president of Chile, Sebastián Piñera, has now tried to count on the support of the different political forces of the country to reform the Constitution and accommodate the largest number of claims of all social and community forces that have come out to protest in recent days.