Rita Ora song accused of exploiting bisexuality by LGBTQ artists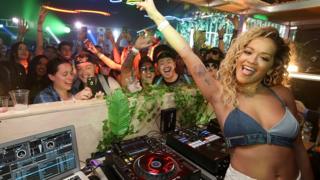 A Rita Ora track featuring Cardi B, Bebe Rexha and Charli XCX has been accused of exploiting bisexuality by several LGBTQ musicians.
The chorus of Girls goes: "Sometimes, I just wanna kiss girls/Red wine, I just wanna kiss girls".
Singers including Kehlani, Hayley Kiyoko and Shura argue the song belittles same-sex relationships.
Newsbeat has asked Rita Ora's management for a comment, but they've not responded yet.
Rita has, however, given an interview to People Magazine in which she said she wants the song to be a bisexual anthem – but when asked whether she considers herself bisexual, she was less clear.
"If people look at it like that, it's very narrow-minded and I don't think that's what this record is. I don't think that that even matters", she said.
Singer and actress Hayley Kiyoko was one of the first to speak out against the track.
"Every so often there come certain songs with messaging that is just downright tone-deaf, which does more harm than good for the LGBTQ+ community", she wrote on Instagram.
"A song like this just fuels the male gaze while marginalising the idea of women loving women."
She went on to add: "I don't need to drink wine to kiss girls; I've loved women my entire life.
"This type of message is dangerous because it completely belittles and invalidates the very pure feelings of an entire community."
Kehlani, who herself has a song with Cardi B (one of the artists featured in Girls), later tweeted about the same thing.
British singer Shura summed her feelings up with an emoji.
But there are plenty of fans who like the song.
"My concern is that if this is her trying to do it because it's a bit sexy or a bit fun then it sort of sounds like it's undermining bisexuality as a serious thing," Sam Neath from Bi Pride UK has told Newsbeat.
"Being bisexual – when I'm with a girl you get a lot of attention from men who assume you're just doing it to attract them.
"Rather than actually accepting that it's a true genuine feeling to someone of the same gender, this song seems to completely undermine that and says we just do it for fun and to attract other men."
Follow Newsbeat on Instagram, Facebook and Twitter.
Listen to Newsbeat live at 12:45 and 17:45 every weekday on BBC Radio 1 and 1Xtra – if you miss us you can listen back here.