Richard Scudamore: Premier League chief to stand down by end of 2018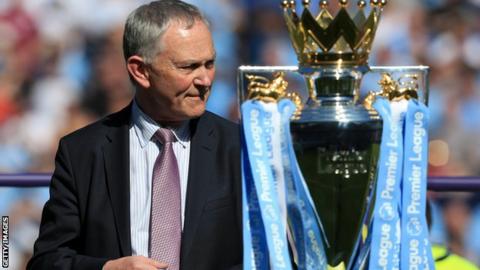 Premier League executive chairman Richard Scudamore is to stand down by the end of 2018 after nearly 20 years as head of the organisation.
The 58-year-old was appointed in November 1999 and has overseen a period of sustained growth.
The league's UK television rights were valued at about £670m when he joined, and the last deal was worth £5.14bn.
"It's an absolute privilege to have been allowed to enjoy this role for so long," said Scudamore.
"It is too much fun to be called a job.
"Football is an intoxicating environment and therefore difficult to give up being so involved, but my passion for what football means to so many and the positive impact it can make will never diminish."
Scudamore kept his decision secret from the clubs, only announcing it at their end-of-season meeting on Thursday when the agenda reached "any other business", the BBC's sports news correspondent Richard Conway says.
It appears the only people aware of his decision were Bruce Buck, the Chelsea chairman and head of the league's audit and remuneration committee, and two of the league's independent directors.
The announcement came on the day it was revealed online streaming service Amazon had won the rights to show 20 Premier League matches a season for three years from 2019.
The package had been designed to appeal to internet giants such as Amazon, Netflix, Apple, Facebook and Google, although the auction fell short of the Premier League's hopes on revenue. The total income for the 200 matches is not expected to exceed the £5.14bn brought in from 168 games in 2015.
Premier League expects 'seamless transition'
Scudamore was a senior executive at the Thomson newspaper group before moving into football in 1997, when he became chief executive of the Football League.
Two years later he moved to the Premier League.
"This past 20 years would not have been possible without the continuing support and encouragement of the clubs and the unstinting efforts of my colleagues at the Premier League," Scudamore added.
"We could not have achieved so much without the enormous commitment of broadcast and commercial partners across the world. That number will run into hundreds. They have all contributed to our story and I would like to thank them enormously."
Buck, meanwhile, said work had already begun on replacing Scudamore.
"We expect to make an appropriate appointment in good time so there can be a seamless transition," he said.
"I speak for all the clubs when I say we are very sorry that Richard will be leaving, but we could not have asked for anything more from him. For 20 years he has led the Premier League with distinction.
"Whilst probably best known for the outstanding growth he has delivered, most importantly he commands the respect of everyone in football for the dignified and positive way he has managed the complexities of keeping the league together and moving us forward.
"The Premier League certainly will go on from strength to strength; we also hope that Richard enjoys a very healthy and successful future.
"When he eventually leaves later in the year it will be with our sincerest thanks and gratitude for a job well done."