Rescuers find seven survivors of missing Kiribati ferry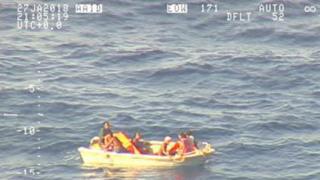 Seven survivors from a missing ferry in the Kiribati archipelago have been found floating in the Pacific Ocean.
The MV Butiraoi, with 50 people on board, went missing a week ago.
The New Zealand Defence Force announced it had located a small dinghy while searching the area from the air.
It had airdropped essential supplies and radio equipment to the survivors, it said. The remaining 43 ferry passengers are still missing.
New Zealand and Fiji are among the countries assisting in the search and rescue operation.
Air Commodore Darryn Webb said a P-3K2 Orion aircraft found the 5m (16ft) dinghy adrift on Sunday morning.
"The crew has dropped them aid supplies containing water, food and a radio and are currently trying to establish communication with them," he said.
A fishing vessel about 92km (57 miles) away had been alerted and was making its way to the dinghy, he said.
John Ashby, from the New Zealand Rescue Coordination Centre, said the dinghy was one of two believed to have been carried by the MV Butiraoi.
"The group seem very relieved to have been found," he added, noting that sea conditions were "moderate to rough".
No further details about the fate of the 17.5m (57ft) wooden catamaran or its other passengers were given.
The Butiraoi left Nonouti Island on 18 January on a 250km (155 mile) journey to the island of Betio, a journey which was expected to take two days.
The vessel had undergone repairs to its propeller shaft just before the journey.
After a week with no sign of the boat, New Zealand began offering assistance.
"We are always ready to play our part at home and in the region to help those in need," it said in a statement at the start of its involvement.
The search for other survivors continues.
The 33 atolls that make up Kiribati occupy a vast area in the equatorial Pacific.
Many of the atolls are inhabited; most of them are very low-lying and at risk from rising sea levels as a result of global warming.