Red Cross figures the number of injured in Chilean protests in more than 2,500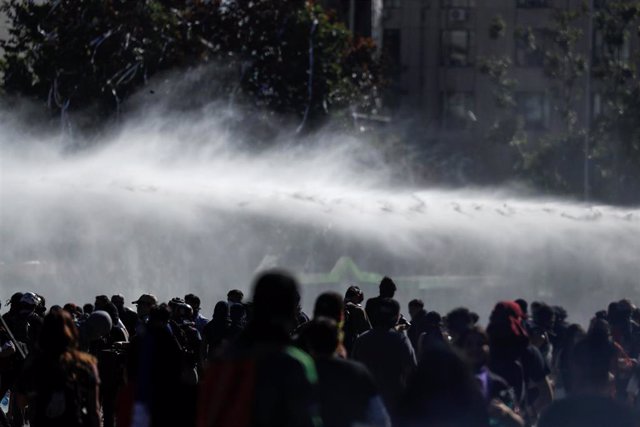 Police officers use water cannons to disperse protesters around La Moneda – REUTERS / JORGE SILVA
MADRID, Nov. 3 (EUROPE PRESS) –
The president of the Red Cross in Chile, Patricio Acosta, has assured that the number of wounded in the protests that take place in Chile since October 17 amounts to more than 2,500, while pointing out that the balance delivered by the National Institute of Human Rights (NHRI), which places the number at 1,570, falls "short."
"The figures given by the (National) Institute for Human Rights of wounded, 1,570 (…) fell short, fell short," Acosta told Radio Cooperativa. "There are more than 2,000, 2,500," he added.
"I can responsibly say that they are more than 2,500 to date," continued the president of the Red Cross in Chile. In this sense, the dissonance in the figures can be explained because, according to Acosta, "there are many people who do not go to the post or to the hospitals for fear of being detained."
"We heal them and leave for the house, and that remains in our statistics, it is not in the statistics of the assistance centers, therefore there has been a lot of injuries that are not accounted for" by the NHRI, he has specified.
In addition, as he said, the Red Cross does not count people who have "a small wound, a small cut that heals and a patch is applied."
"We do not count it because sometimes we attend to them in the past. We are moving forward, someone asks us for attention and we do it," he said.
Finally, Acosta has indicated that they also do not consider the effects of tear gas, for which many resort to assistance with vision or skin problems, because they end up deriving them or asking them to leave the area.
"Therefore, the figure I think is higher," the president of the Red Cross has settled in Chile, who has also warned that there are other groups that are providing help and whose numbers are not known either.
Protests broke out on October 17 over the fourth rise in the price of the subway in a few months but grew rapidly to denounce social inequality. The president of Chile, Sebastián Piñera, has devised a "social agenda" and has remodeled the Government to respond to the concerns of Chileans, but the demonstrations continue.