Rebel Wilson: Australia media firms fail in defamation case bid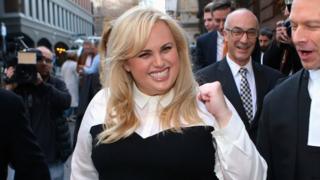 Hollywood actress Rebel Wilson has accused Australian media firms of "colluding" with a magazine publisher in their bid to contest a record defamation payout.
The Australian actress was awarded A$4.5m (£2.7m; $3.6m) last year, after arguing that articles by Bauer Media had portrayed her as a serial liar.
Bauer is appealing against the sum, Australia's largest defamation payout.
A bid by six Australian media giants to join the appeal was denied on Thursday.
The Supreme Court of Victoria rejected the joint application by News Corp Australia, Fairfax Media, Australian Broadcasting Corporation, Nine Network, Seven Network and Macquarie Group.
They had argued that the size of the payout could prevent journalism that is in the public interest.
Their application was thrown out after Justice Pamela Tate ruled that it was not sufficiently different to Bauer's appeal.
Wilson, who has starred in films including Pitch Perfect and Bridesmaids, tweeted her approval after the decision.
Skip Twitter post by @RebelWilson
Ch 7, Ch 9, ABC, News Corp, Fairfax & Macquarie Media should be embarrassed about colluding with @bauermedia and for unfairly and inappropriately reporting on my appeal and costs hearing over the past few months.

— Rebel Wilson (@RebelWilson) March 22, 2018
End of Twitter post by @RebelWilson
The media outlets had asserted that the payout was inconsistent with previous rulings, and had effectively removed a "damages cap".
"This sets a precedent because if someone has an aggravated damages claim then they can be given unlimited damages – the sky is the limit," their lawyer, Justin Quill, said last month.
The media organisations did not comment on the ruling on Thursday.
In court last year, Wilson argued that eight articles published by Bauer magazines in 2015 had portrayed her as a serial liar, and that this resulted in her being sacked from two feature films.
A jury sided with the actress, who has vowed to give the money to charity.
Bauer said the articles were not defamatory. Its separate appeal is due to be heard in court next month.