Reality Check: Is a driver shortage messing up Northern trains?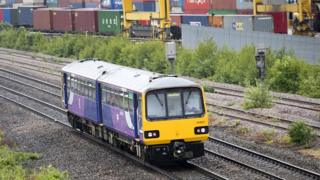 Transport Secretary Chris Grayling has threatened to remove franchises from failing rail operators, after massive timetable changes caused delays and cancellations. So, is a lack of drivers responsible?
Passengers were promised a better future. The morning of 20 May was to be when many of England's rail services became less crowded and more reliable, with more trains coming into use.
But commuters soon discovered that timetable overhauls brought in to increase the number of services operated by Northern Rail weren't working. Angry scenes developed on platforms as hundreds of trains were cancelled or delayed.
Problems continued over the next couple of weeks. So, to encourage some reliability (that is, to make published train times more realistic), on Monday Northern brought in "emergency" timetables, cancelling 165 services a day – about 6% of its total – until late July.
Passenger anger over timetable 'failure'

Why do crew shortages cause one in 10 delays?

What makes commuters sick at heart?
Transport Secretary Chris Grayling has since launched an inquiry into why it and other companies have struggled to cope, saying he might prevent operators from bidding to renew franchises if they are found to be at fault over the disruption.
There has been much talk of a shortage of drivers causing problems – and Northern has used this as an explanation on social media.
So, without prejudicing Mr Grayling's findings, is a lack of drivers the problem?
Well, yes and no, according to Northern.
The company says it employs 1,500 drivers – 150 more than it needs to operate trains according to the timetables brought in on 20 May. But the problem is that 500 of them are having to re-learn how to navigate some of its routes.
Part of the reason for this, Northern adds, is that planned electrifications (to improve efficiency and increase the number of trains available) on the Manchester-Preston (via Bolton) line and Preston-Blackpool line have been delayed by Network Rail, the government-owned body that oversees rail infrastructure.
These delays meant electric trains were not running on these lines when the timetable overhaul happened.
As a result, drivers who had been primed to deal with new timetables using electric trains are now having to be re-trained to do so using existing diesel stock. This is because services have changed, with the Clitheroe-to-Manchester Victoria route being extended on to Rochdale, for example.
Drivers have to get used to different depots. And, because Northern uses several different classes of diesel locomotives, many have to undergo some technical re-training.
So, according to Northern, the shortage is not of drivers per se, but of properly trained, available drivers.
'Less time'
It is Network Rail's job to look at and decide whether to approve any timetable changes in order to ensure passenger safety and consistency of service across the network.
It says the "sheer number" of changes involved in the May overhaul meant its work "took longer than anticipated".
Some timetable requests had to be changed, meaning operators, including Northern, had "much less time" to prepare.
"The differences between the timetables submitted and those approved created a requirement for training that had not been anticipated," Network Rail said.
In other words, Northern is saying that Network Rail's delays to electrification have disrupted its drivers, while Network Rail is saying it has struggled to cope with its own workload.
Planning
Keith Richmond, spokesman for train drivers' union Aslef, says Northern is being "disingenuous" in its explanation of the service disruption, and that it really "doesn't have enough drivers".
He says Aslef recommended last June that Northern start training drivers to deal with its proposed timetable changes, but that the company did not do so until February.
"They knew well in advance what changes they wanted to make to timetables," he adds. Mr Richmond argues that Northern could have done the bulk of training in advance and then tweaked it following the electrification delays.
Whatever explanation of the problems you prefer, Mr Grayling has warned there is no "easy solution" to the disruption to Northern services.
Passengers will hope for improvements – fast.
Read more from Reality Check
Send us your questions
Follow us on Twitter