Reality Check: Are there more beds for domestic violence victims?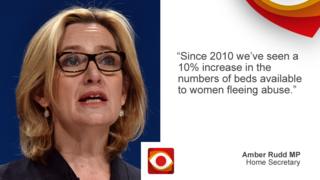 The claim: There are more bed spaces available for vulnerable women fleeing domestic abuse than there were in 2010.
Reality Check verdict: This is true – there are more bed spaces in refuges. But there are fewer refuges and more or less the same proportion of women are being turned away as they were in 2010.
As proposed laws to protect victims of domestic abuse were announced, Home Secretary Amber Rudd drew attention to a 10% increase in bed spaces in refuges since 2010.
The number of bed spaces in refuges in England has gone up from 3,467 in 2010 to 3,798 in 2017, which is about a 10% increase.
That information comes from Routes to Support – the database of domestic abuse services in the UK.
However, the same database shows the overall number of refuges available has fallen from 296 in 2010, to 276 in 2017 – a cut of 7%.
This is part of a trend towards fewer, larger services that cover a bigger geographical area. In many cases, this means more women need to be provided with support by the same number of staff.
According to the domestic abuse charity Women's Aid, these larger contracts have also meant tenders to run refuge services have increasingly been going to big organisations which don't specialise in domestic abuse provision, like housing associations.
And funding for refuges has also fallen.
The appalling cost of domestic abuse

'I didn't know emotional abuse was a thing'
More than three-quarters of local authorities with responsibility for providing refuges have cut their funding since 2010, by at least £7m overall, according to Freedom of Information requests by the Bureau of Investigative Journalism.
Councils have a legal duty to provide accommodation to people made homeless by domestic abuse.
The combination of less funding per bed and fewer specialist providers means some women cannot access bed spaces because they need specialist support for things like mental health or drug and alcohol use, which refuges are no longer able to provide.
Women's Aid says its most recent annual survey suggested that 60% of referrals to refuges were turned down in 2016-17 amounting to more than 10,000 instances of women being turned away. This proportion has remained more or less unchanged since 2010 despite the increase in bed numbers.
The charity Refuge, the largest provider of refuges for women and children escaping domestic violence in England, says that 80% of its services have suffered funding cuts since 2011 and overall its funding on average has been cut by a third.
How has the law changed in England and Wales?
The draft Domestic Abuse Bill currently under consultation follows a number of changes to the law since 2010.
Domestic Violence Protection Orders were legislated for in the Crime and Security Act 2010 allowing police and magistrates to ban a perpetrator from returning to their home and from having contact with the victim for up to 28 days
A criminal offence of "coercive control" (controlling or coercive abusive behaviour) came into force in December 2015
The domestic violence disclosure scheme (DVDS), often referred to as

Clare's Law,

was rolled out across England and Wales from March 2014. The scheme means that an individual can ask the police to check whether a new or existing partner has a violent past ("right to ask")
You might have heard the startling statistic that two women are killed by partners or ex-partners every week in England and Wales.
This comes from the Office for National Statistics, which produces official crime figures. It says that between April 2011 and March 2016, 415 women were killed by partners or ex-partners which equates to 1.6 women per week, a figure which is rounded up to two per week.
We can't quantify exactly how common domestic abuse is. The latest available figures from the Crime Survey for England and Wales, which is a face-to-face survey of households, estimated that around four in five victims (79%) of partner abuse did not report it to the police.
The most recent Crime Survey of England and Wales suggests 6% of women aged 16 to 59 had been victims of non-physical abuse, threats, force, sexual assault or stalking by a partner.
This is equivalent to 992,000 victims last year.
Read more from Reality Check
Send us your questions
Follow us on Twitter