Rapist caught after urinating in plant pot 30 years later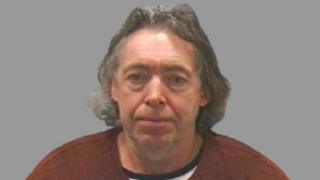 A rapist who evaded capture for more than 30 years until he urinated in a neighbour's plant pot – leading to a DNA match – has been jailed.
Eric McKenna, 59, raped two women in separate attacks in the North East in 1983 and 1988.
Police had not linked the assaults until they were called to the neighbour dispute in 2016 and took swabs from McKenna which matched the cold cases.
McKenna, of Clarewood Court, Newcastle, has been jailed for 23 years.
Newcastle Crown Court was told analysis of the DNA showed it to be an exact match for samples recovered after both rapes.
'Overwhelming case'
McKenna attacked a 21-year-old woman as she walked home near the High Level Bridge in Gateshead in April 1983.
Then, in March 1988, he targeted an 18-year-old student in the Manors area of Newcastle.
He approached both victims from behind as they walked alone and threatened them with a knife.
Det Con Mick Wilson, of Northumbria Police, described it as "a very unusual case" and said McKenna had "failed to show a glimmer of remorse".
He added: "His crimes were calculated, planned and were horrific experiences for the two victims involved.
Victims 'not properly supported'
"In the 1980s we did not have the same forensic techniques available that we do now and we have secured a conviction thanks to those developments.
"McKenna thought he had got away with his crimes, but a neighbourly dispute and a moment of stupidity has landed him in prison for 23 years."
The force apologised to the two women after admitting they did not receive the support they should have when they reported the attacks.
Jackie Wilkinson, of the Crown Prosecution Service, said McKenna had "evaded justice for two brutal rapes for over 30 years" until an "overwhelming case" was built against him.
She added: "The attacks had pronounced and lasting effects on his victims throughout their lives and they have both spoken of their distress during the original investigations.