Ramadan: Women's 'shame' of eating during menstruation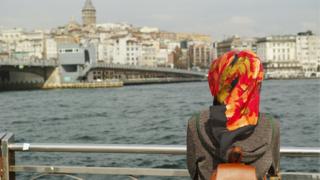 Muslim women on social media have been discussing the challenges around eating while having their periods during the holy month of Ramadan.
Some have said they hide away from male relatives to avoid being stared at or having to lie about menstruating.
Sophia Jamil told the BBC: "Some people don't want to admit this problem exists because they see it as a negative reflection on the Muslim religion, but there is a problem."
During Ramadan, Muslims fast between sunrise and sunset, not consuming food or drink. However, when a woman is menstruating she cannot fast.
But despite this, some women feel they cannot be open about their periods with male members of their family.
"My mum used to tell me, if you're on your period don't tell the men, only the girls know," says the 21-year-old beauty blogger.
"So whenever I was drinking water and saw my father coming I would put the glass down and walk away. I had to be like a racoon. My mum would put food in my room and tell me to eat there quietly."
Sophia who lives in New York and is of Pakistani descent says: "When my brother caught me I literally had the bite in my mouth and he stared at me. My brothers would try to catch me eating in order to embarrass me.
"I wish I had the confidence to say that this is natural and my religion commands that I cannot fast because I am not pure enough."
Sophia says menstruation is such a "shameful topic" that her mother never told her she would get periods when going through puberty.
"I really think menstruation should be something women own, the taboo should be gone. There should be more conversations and it's up to our generation to make that change," she says.
The rules of Ramadan
During Ramadan an individual is required to abstain from food, liquids and intimacy from dawn to sunset.
The intention to fast must be made every day before dawn. The intention or niyyah may be made during the night before going to sleep or it can also be made at the time of suhoor or pre-dawn meal.
Women on their period cannot fast, read the Koran or enter a mosque.
It is also acceptable not to fast during Ramadan if you are pregnant, have a physical or mental illness, are elderly, experiencing severe thirst or hunger, travelling, or your life is threatened should you not break the fast.
You may also be interested in:
Ramadan questions Muslims always get asked

The Muslims who fast for 22 hours a day

Six common misconceptions about Ramadan

Should children be allowed to fast?
President of the Muslim Student Association, Sabreen Imtair, told the BBC she wanted to help people talk about attitudes towards menstruation and tweeted to encourage a conversation online.
Skip Twitter post by @chubbythicc
Do y'all care if the male relatives in your fam know if your on ur period like brothers/fathers, etc?

— sabitch (@chubbythicc) May 29, 2018
End of Twitter post by @chubbythicc
She said: "My family is so open about these kinds of things, but some girls, especially during Ramadan, don't even eat in front of their male relatives and feel dirty and ashamed during their periods."
Skip Twitter post by @reallymarvel
i literally have to go in my room and lock my door to eat when i'm on my period during ramadan, my mom is really strict about my dad or brothers knowing, but i find that kind of stupid because it's not something i should have to hide

— aspen//37 DAYS (@reallymarvel) May 30, 2018
End of Twitter post by @reallymarvel
"There's such a huge stigma," says the 18-year-old. "Hiding your period and feeling shame perpetuates misogyny. It changes the perception of femininity."
Sabreen's own experience is a different one. She is able to eat and drink during the Ramadan fast when her family is present: "I went to buy a smoothie. My brother was fasting and asked me why I was ordering. When I told him I was on my period he was fine with it, very accepting."
Skip Twitter post by @iAlisaJ
No, not at all. My husband @ikeybe brings me what he like to call a "period gift bag". It is full of all my favorite snacks. 😂

— 👑 (@iAlisaJ) May 30, 2018
End of Twitter post by @iAlisaJ
However, Sabreen recognises the need to talk more openly about menstruation: "My mum has taught me how to use tampons and dealing with the blood, but not really about how to tell people about it," she says.
"I didn't really talk about it with people until recently. It's such a taboo subject but we all have our periods, it's OK, we should normalise it."
By Kris Bramwell, BBC UGC and Social News