Rail crisis: Your train journey horror stories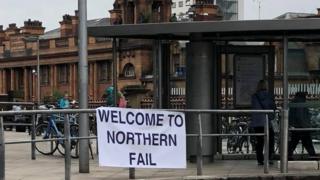 The ongoing chaos on the UK's rail network has been met with growing frustration and anger by many of the people affected. The BBC has spoken to some passengers who are facing daily disruption to their journeys.
Rebecca Pipe, from Rochdale, is currently undergoing treatments for breast cancer and says the rail disruption is affecting her recovery.
She says travelling home from Manchester Victoria after treatment is "horrible and incredibly stressful".
"My journey home should take 20 minutes, but with all the cancellations it can take a really long time."
Rebecca says that she has decided to take some time off work because travelling by train is too difficult.
"I am supposed to be recovering and I feel like the train problems have had an impact on my health."
On Monday Transport Secretary Chris Grayling said commuters would be compensated and announced an inquiry into what had gone wrong, but Rebecca feels that "no-one seems to care" about the impact the disruption is having on people.
Karen Bregan says the cramped conditions on the trains into Manchester from Blackrod are "more suited to herding cattle" than commuting.
She says "arguments regularly break out as desperate passengers try to get on the train".
Karen suffers from back problems and told the BBC she finds it difficult to stand up during her journey.
"By the time I get home my back hurts, I'm really stressed and uncomfortable."
Stephen Pimlott, from Wigan, says that since the new timetables were introduced, "more often than not" his train is cancelled.
Stephen feels that the train service in the North of England has been "going downhill for a long time".
He says: "This has been a stress test for Northern and they have completely failed.
"As paying customers we are sometimes paying for imaginary trains."
Claire Lamb, from Surrey, says her commute to London Bridge has become a "horrendous ordeal" since the timetable changes.
Claire says her local station is no longer served by a Thameslink service to London Bridge.
"I'm having to drive for 20 minutes on a really busy road every morning to get to a different station.
"I then have to change at East Croydon, which is now under so much pressure. Everyone is just running around like headless chickens."
Claire says she now has to leave her 13-year-old son alone at home in the morning to get to work on time.
Sam Holt, 42, commutes from Buckshaw Parkway, near Chorley, to Manchester Piccadilly.
The disruption to train services on the line have caused him to miss two weeks of work.
"The bar is now so low for the service that I am not even surprised when I can't get to work.
"The first thing I think when I wake up is 'can I get to work today'. I have zero confidence in the trains."
Sam says that he has been missing out on time with his children in the evening because of delays.
"I have no confidence that I will be able to see my children before they go to bed."
On 4 June Sam's train arrived on time: "I punched the air when I saw it approaching."
He documented the rare moment in a video he posted on Twitter.