Rail crisis: Northern newspapers urge PM to 'get a grip'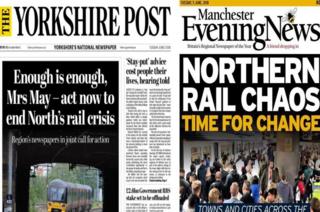 Newspapers across the north of England have joined forces to call on Prime Minister Theresa May to "get a grip" after chaos on the rail network.
Some 25 titles have called for an emergency summit in Downing Street to find a solution to the crisis.
They said the recent chaos "made a mockery" of Government claims to be prioritising infrastructure in the cities of the north.
The group also wants a review of rail franchising in the UK.
The Manchester Evening News, Liverpool Echo and Yorkshire Post were among the titles from three newspaper groups calling for action after passengers across the north were hit by crippling disruption following the introduction of a new rail timetable by train operator Northern.
Passengers rail at fresh train disruption

Under-fire Grayling announces rail inquiry

More trains hit by timetable 'shambles'
The group wants the trans-Pennine high-speed line prioritised over London's Crossrail II.
Northern was also urged to clarify its plans for passenger compensation.
The Northern Echo tweeted the call with the message: "We are on the side of rail passengers."
The newspapers said Transport Secretary Chris Grayling should take accountability for the rail chaos and told Mrs May it was time to "get a grip".
On Monday Mr Grayling announced there would be an inquiry into what went wrong.
Passengers across the Northern network were hit by further delays and cancellations despite the company introducing an emergency timetable to combat disruption caused by the earlier changes to its services.
Greater Manchester Mayor Andy Burnham tweeted that he is calling for a "wider ticket acceptance scheme" and suggested Transport for the North would issue a statement later today.
The newspapers involved are:
Johnston Press
The Yorkshire Post
Yorkshire Evening Post
Sheffield Star
Lancashire Evening Post
Blackpool Gazette
Wigan Post
Chorley Guardian
Leyland Guardian
Newsquest
The Northern Echo
Lancashire Telegraph
The Bradford Telegraph & Argus
The Bolton News
The Oldham Times
Bury Times
Radcliffe Times
Prestwich & Whitefield Guide
The Messenger
Bolton Post
Reach (formerly Trinity Mirror)
Manchester Evening News
Newcastle Journal
Liverpool Echo
Huddersfield Examiner
Teesside Gazette
Northern Chronicle
Leeds Live