Quick clothes washes could cost you more, warns Which?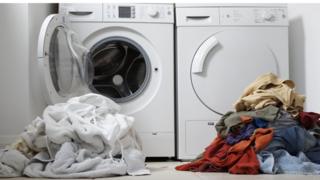 Quick cycles on washing machines may not be as green or financially prudent as previously thought, Which? has said.
A study of 10 washing machines by the consumer watchdog found the average cost of a standard cycle to be 18p, while quick cycles cost around 9p.
But Which? says the poorer cleaning, rinsing and spinning of shorter washes mean people often need additional washes or use tumble dryers for longer.
Which? said using short cycles "might not" save either money or energy.
"As quick washes don't spin your clothes as thoroughly as a full wash, it will take longer for them to dry," the study said.
"If you use a tumble dryer to do this, it will consume more energy – which will cost you more."
The study gave quick washes two stars out of five for cleaning and rinsing, and three stars for spinning.
Normal washes got four stars for cleaning, three for rinsing, and five for spinning.
The report said: "Quick washes are only really suited to laundry that doesn't have any tough stains or lingering smells, such as a few shirts that you've worn to the office for only a day."
Families 'struggle' without washing machines

Device could make washing machines lighter and greener
In a survey of 1,199 washing machine owners, Which? found 55% of people used the quick wash "sometimes" or "often".
The organisation attributed that trend to standard wash times increasing.
In 2011, the average duration of a standard cycle was less than two-and-a-half hours – but in 2018 that time has increased to more than three hours.
Which? explained manufacturers were "decreasing the temperature to cut down on energy consumption, but increasing the duration of the wash to get the same cleaning results".